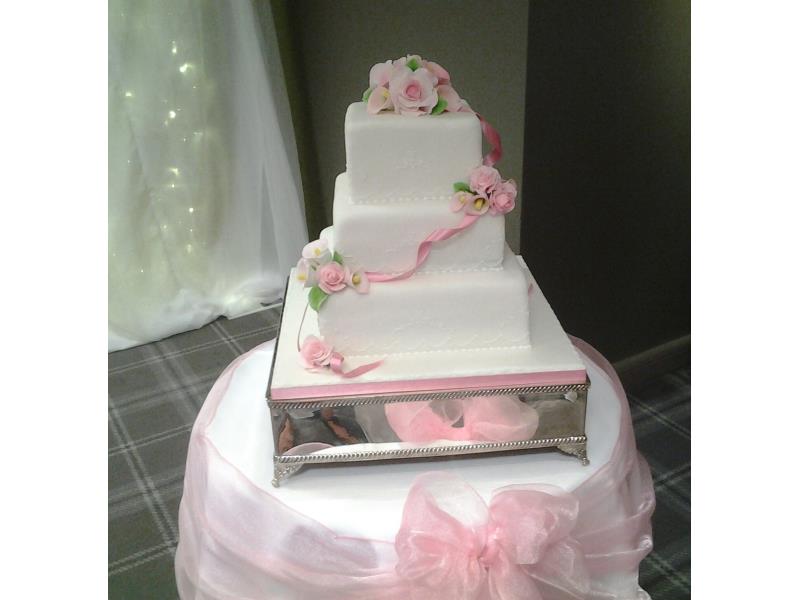 Calla Lillies on 3 tier pink and white wedding cake for Lisa & Alex at Village Hotel Blackpool. Handmade lillies on vanilla and lemon sponges.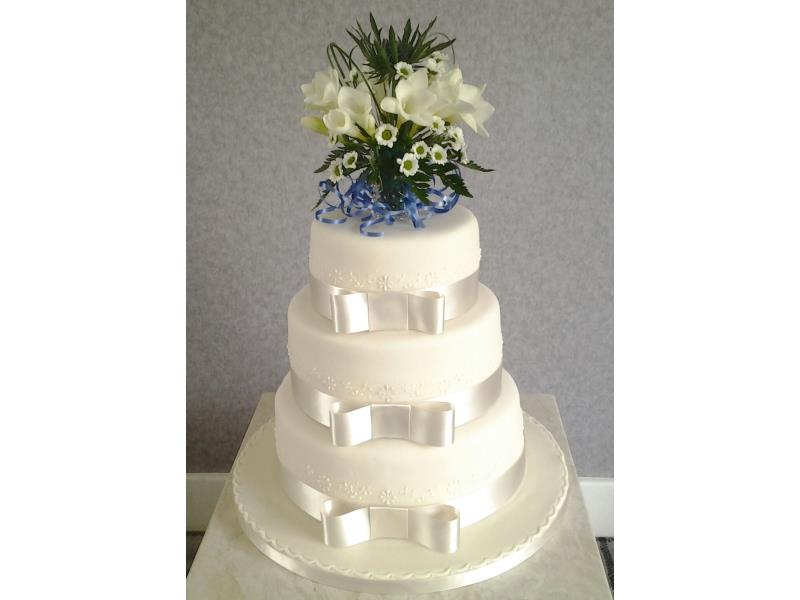 Classic white 3 tier wedding cake in vanilla and chocoolate sponges and carrot cake for Sharon & Lewis at Park Hotel Blackpool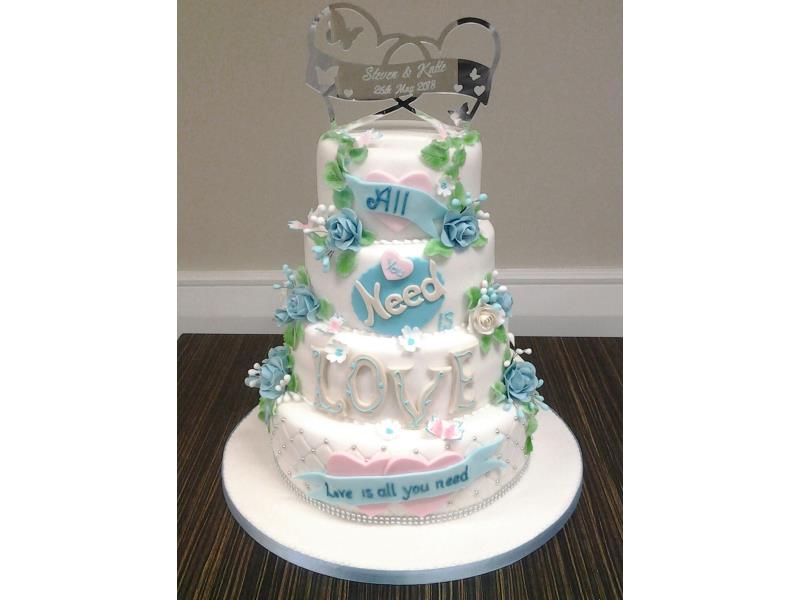 All You Need is Love wedding cake in vanilla, chocolate with oranges ponges and carrot cakes for Katie & Steven in Newton Le Willows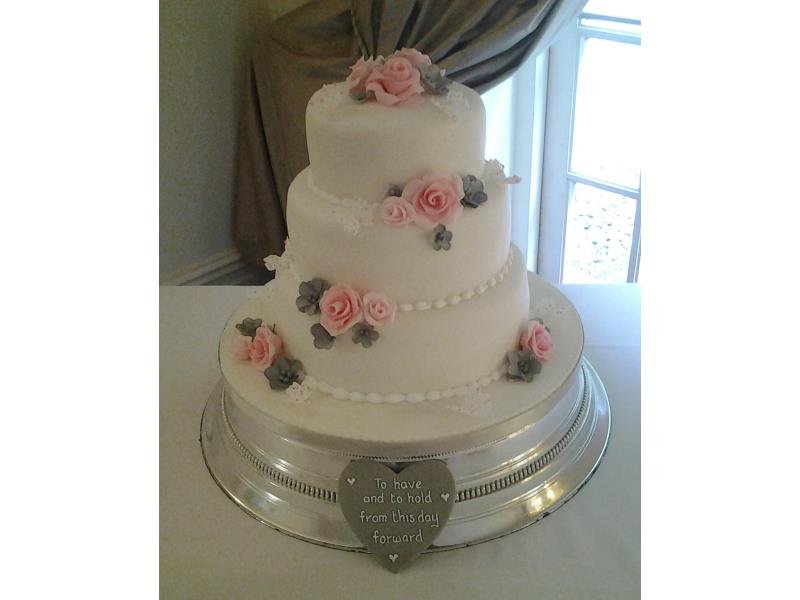 To Have and to Hold wedding cake for Jane & Paul in Bispham for their wedding at Singleton Lodge. Made from vanilla, lemon and chocolate with oranges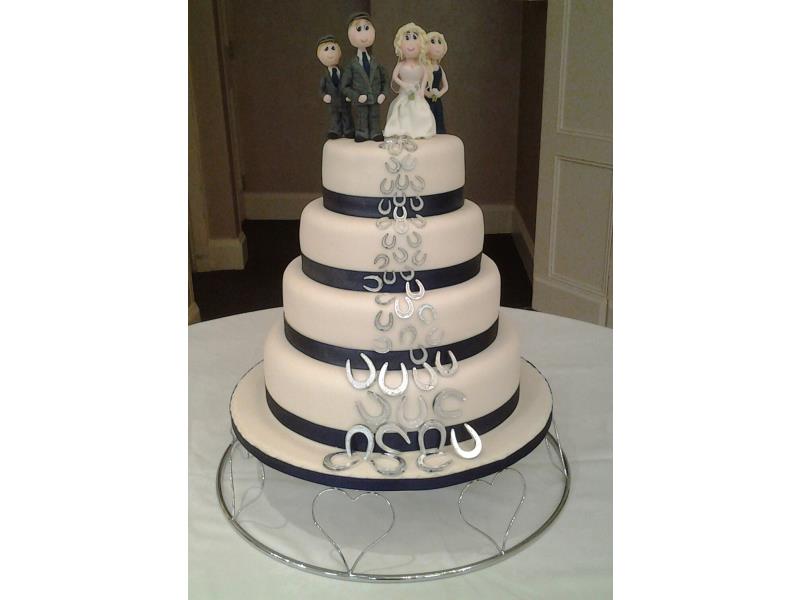 Horse Shoes- wedding cake in fruit cake, vanilla, chocolate sponges and carrot cake. 4 tier wedding cakewith hand modelled bride & groom and children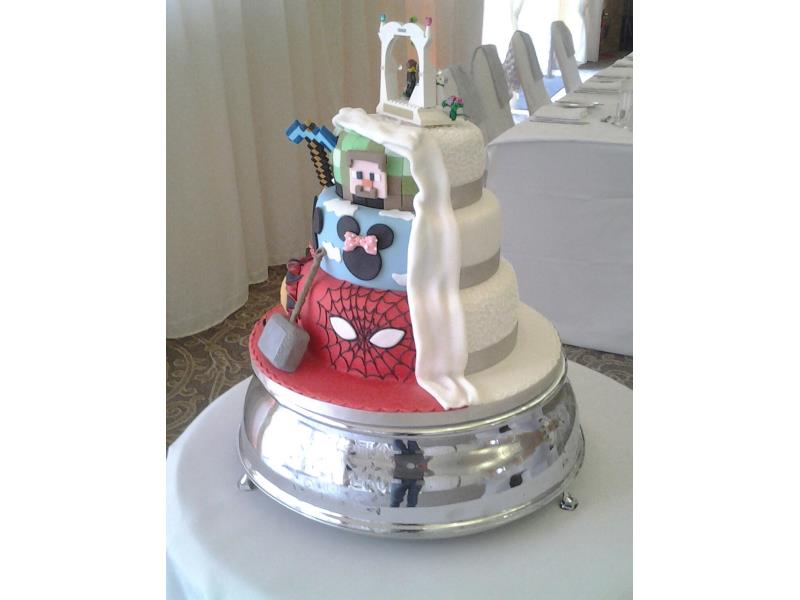 Traditional & Comic - half and half wedding cake with tradional, spiderman, Minecraft, Minnie Mousefor Kiera & Cameron at The Villa, Wrea Green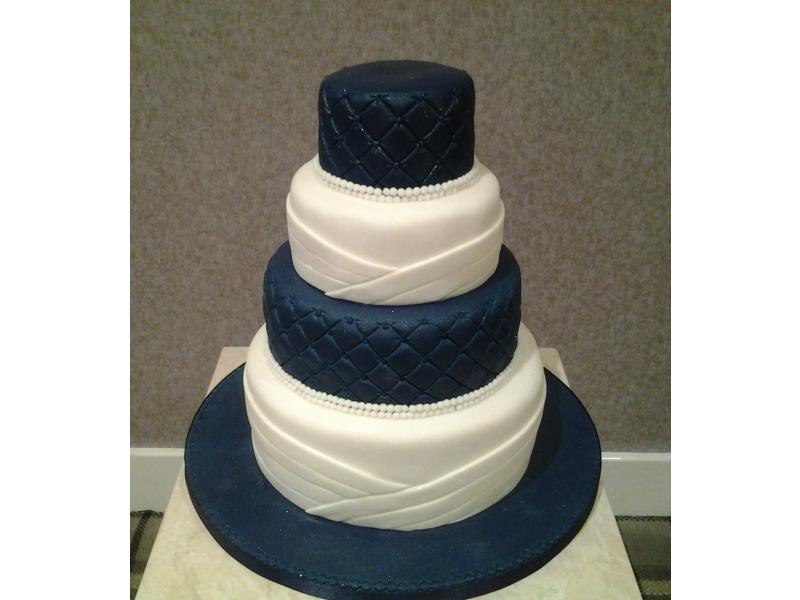 Simplistic royal blue and white 4 tier wedding cake with pearls. Made in vaniila and chocolate with orange sponges and carrot cake.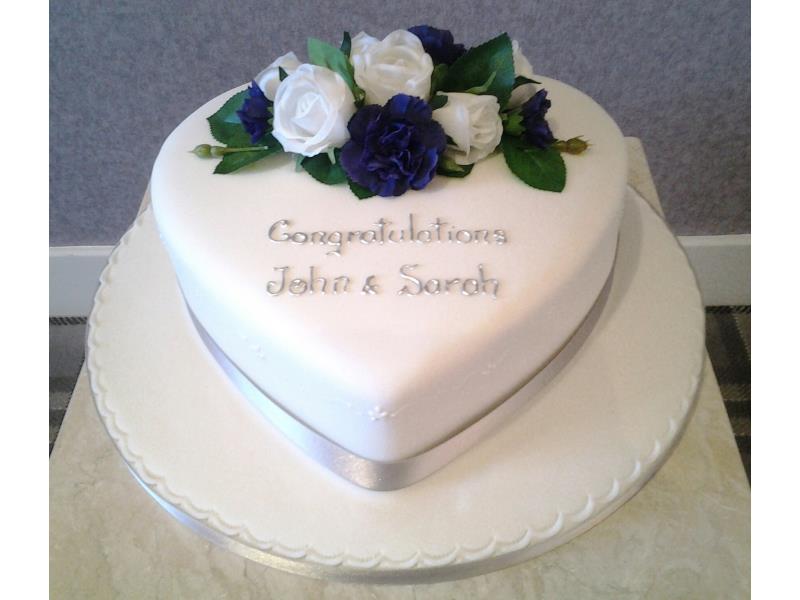 Heart - classy and simple heart shaped wedding cake for John and Sarah in South Shore. Made from vanilla sponge.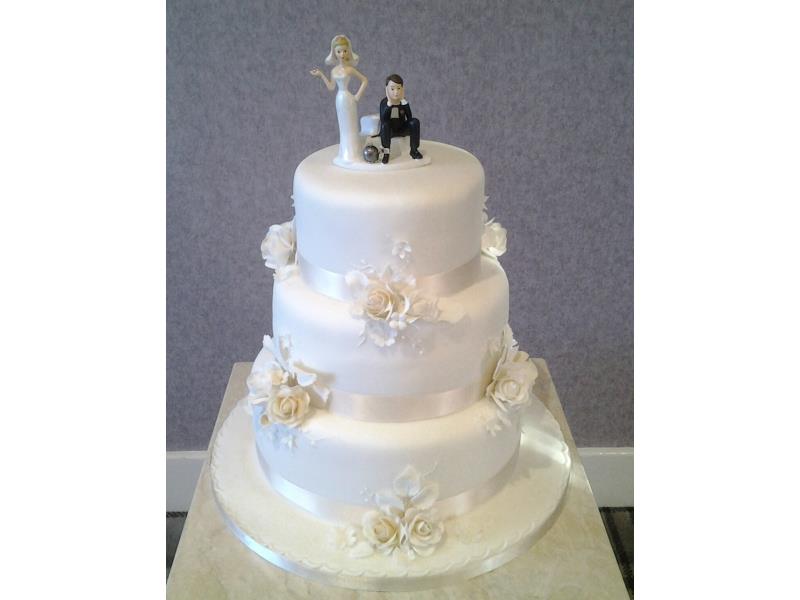 Classic 3 tier wedding cake in chocolate, carrot and chocolate with orange sponges for Zanete & Warren's wedding in Buttermere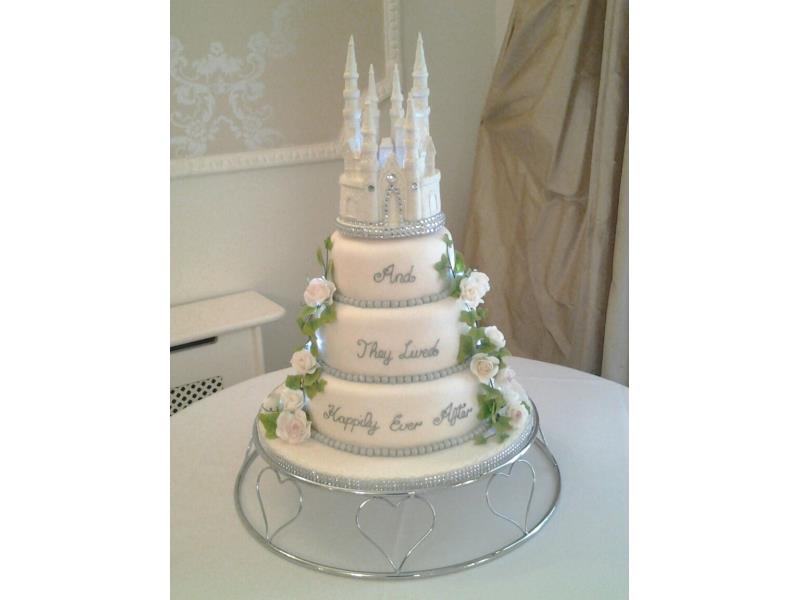 Disney themed wedding cake with castle in 3 tiers of lemon, vanilla and chocolate with orange sponges.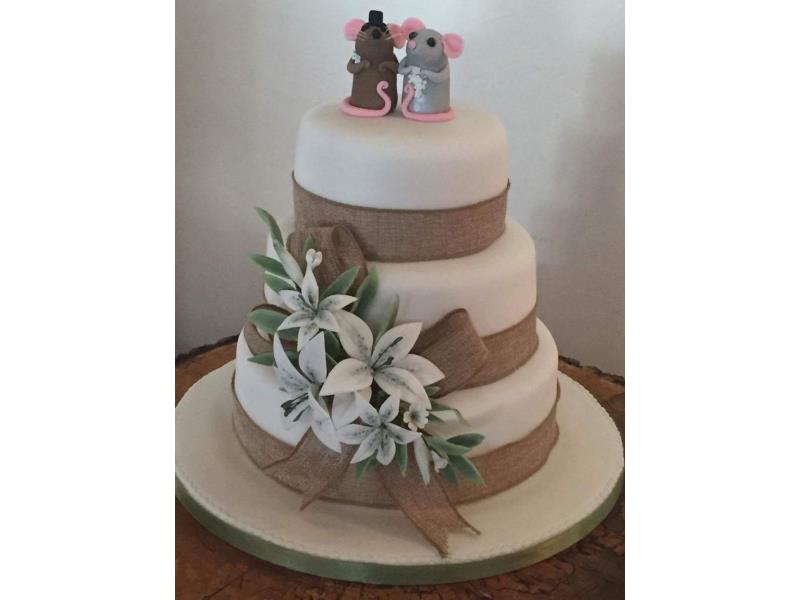 Hessian 3 tier Wedding Cakein vanilla, chocolate and lemon soponges with Lillies to celebrate Katy's & Lee's wedding in Blackpool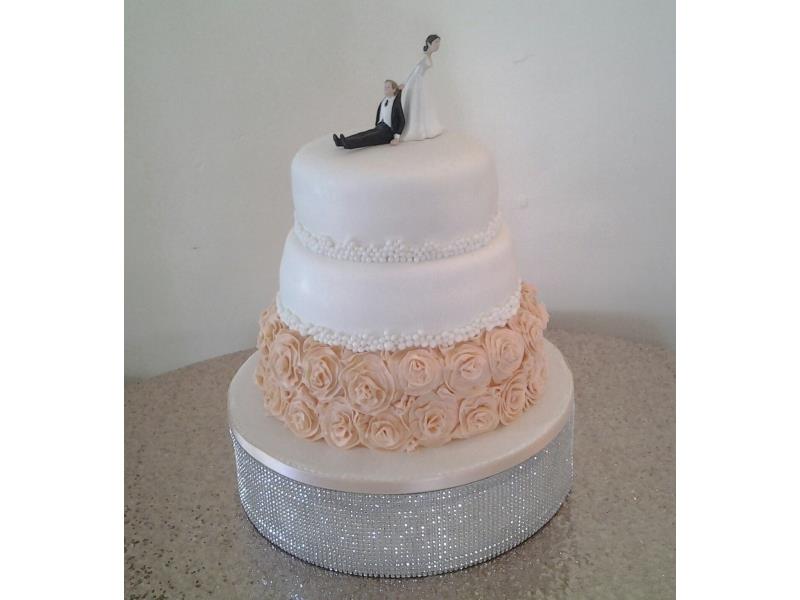 Becky - 3 tier wedding cake in white with pink ruffles, made from vaniila, lemon and chocolate sponges for Becky & Pat in Lytham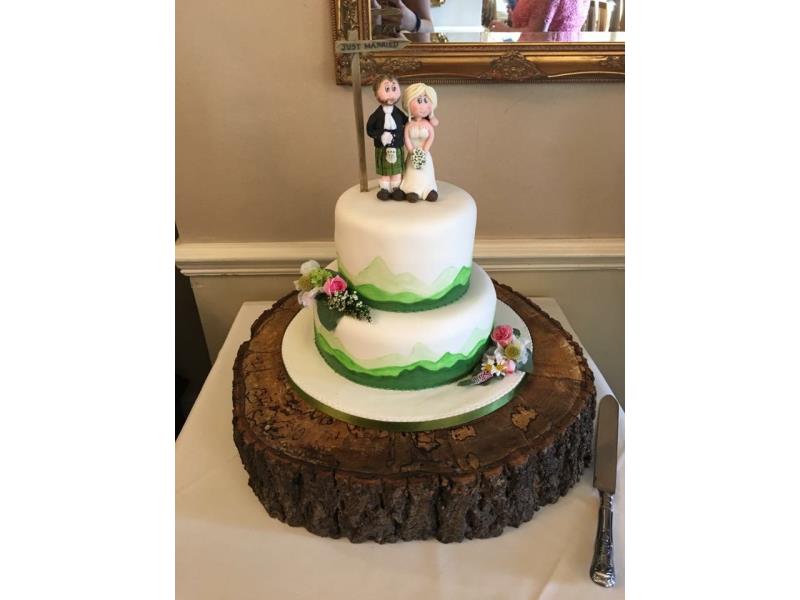 Hill walkers' wedding cake for Rachel & Gary at Merewood Country House Windermere.Made from fruit cake lemon sponge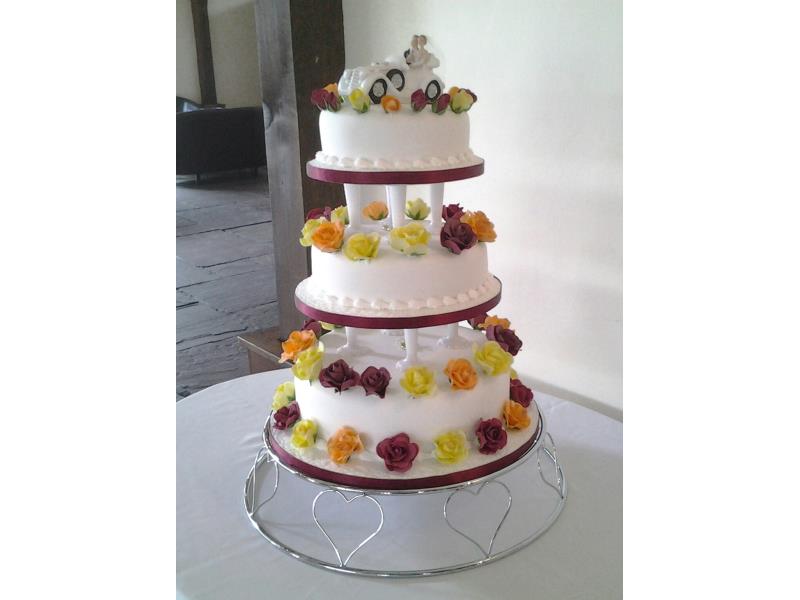 Flowers in claret, orange and yellow colourful wedding cake for pauline's special day at Great Hall of Mains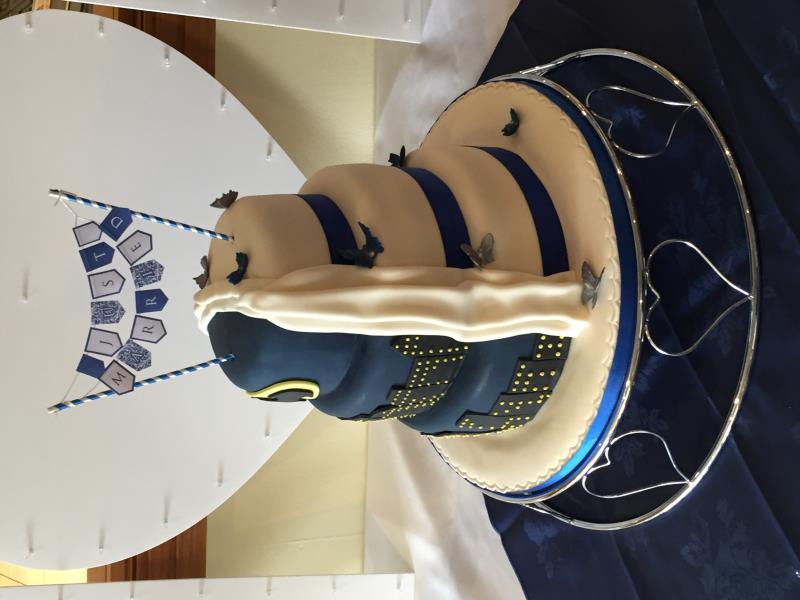 Dual aspect wedding cake, traditional on one half and Batman on the other for Niki & Michael's wedding in Blackpool. Made from vanilla sponge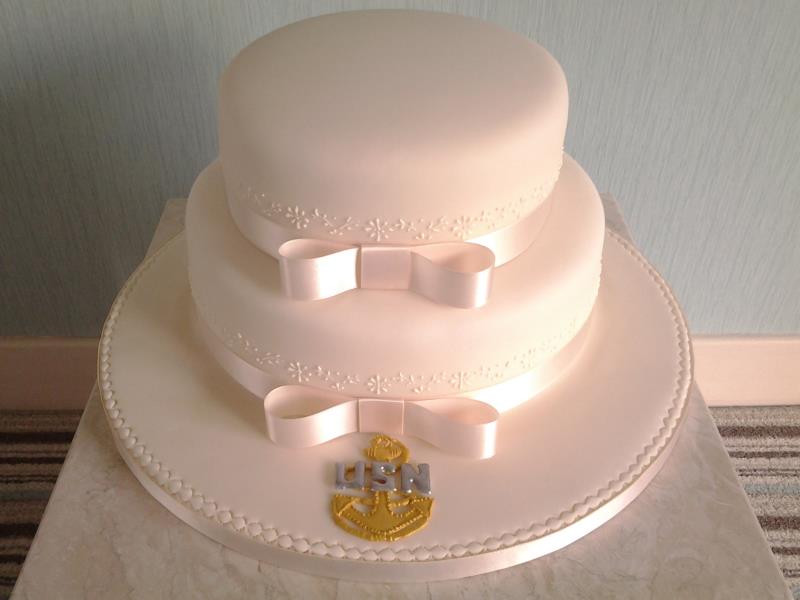 2 tier wedding cake, simple and classy for Swee Poh & Eric's wedding at Imperial Hotel, Blackpool. Bearing the crest of US Navy Chief Petty Officer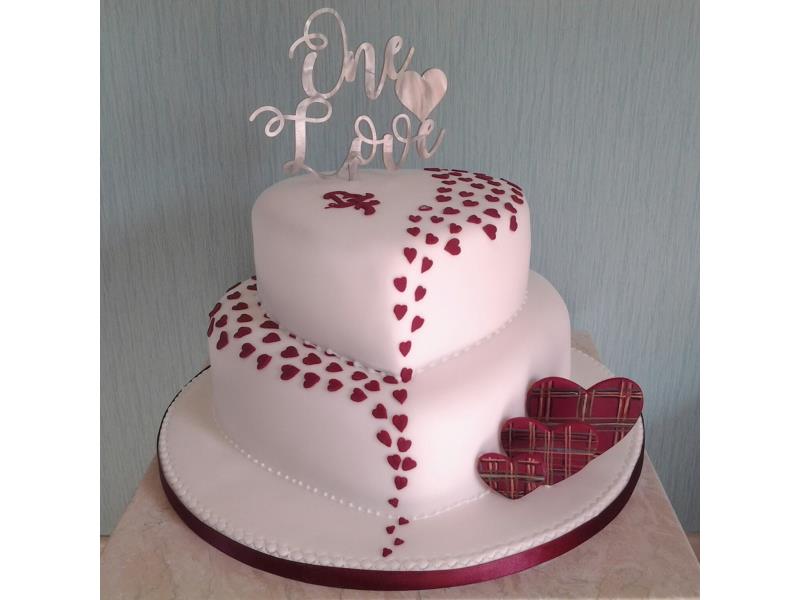 Tartan and hearts 2 tier wedding cake for Fiona & Becky from Eccles, married in Blackpool. Made from fruit cake and vanilla sponge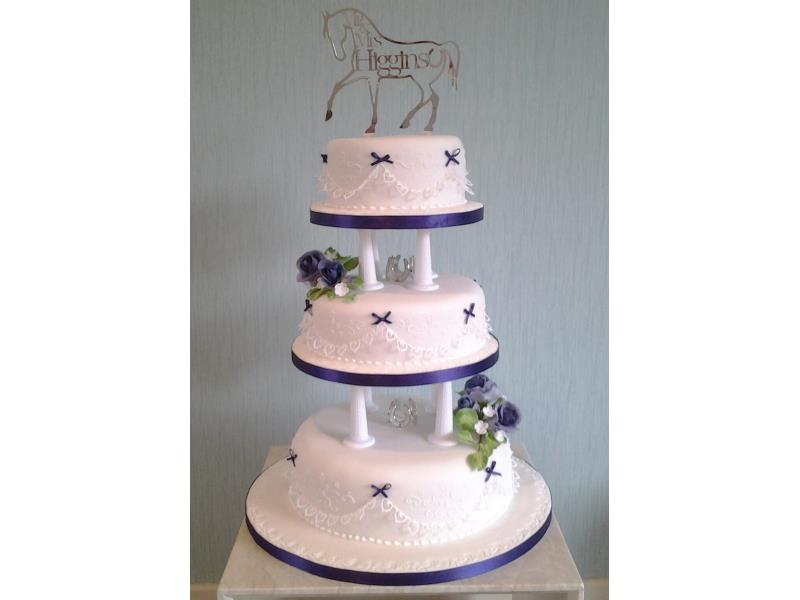 Flowers & Pillars - 3 tier wedding cake in vanilla and lemon sponges and fruit cake for Nicola and Daniel in Blackpool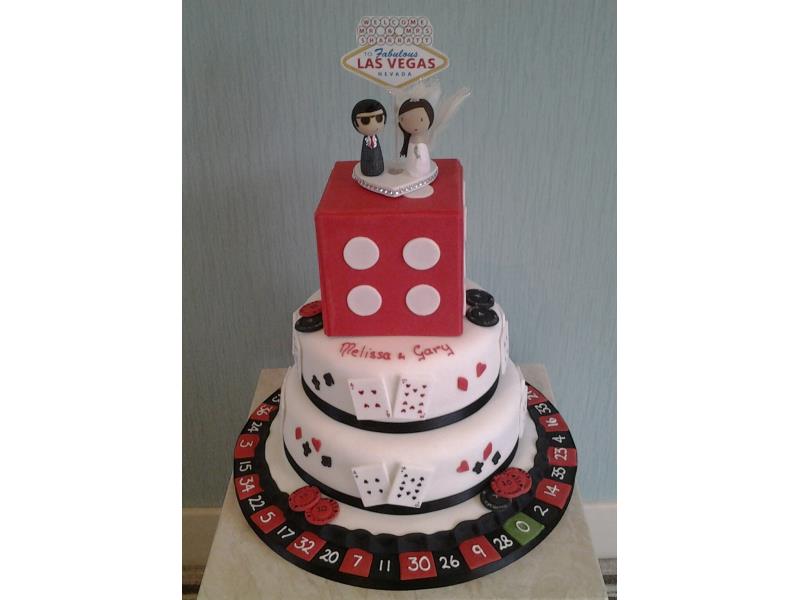 Las Vegas - themed wedding cake Madeira and chocolate sponges for Melissa's wedding reception at The Venue Cleveleys

Hannah-Beth - traditional 3 tier wedding cake in sponges and fruit cake for Hannah-Beth's & James' wedding at the Imperial Hotel Blackpool.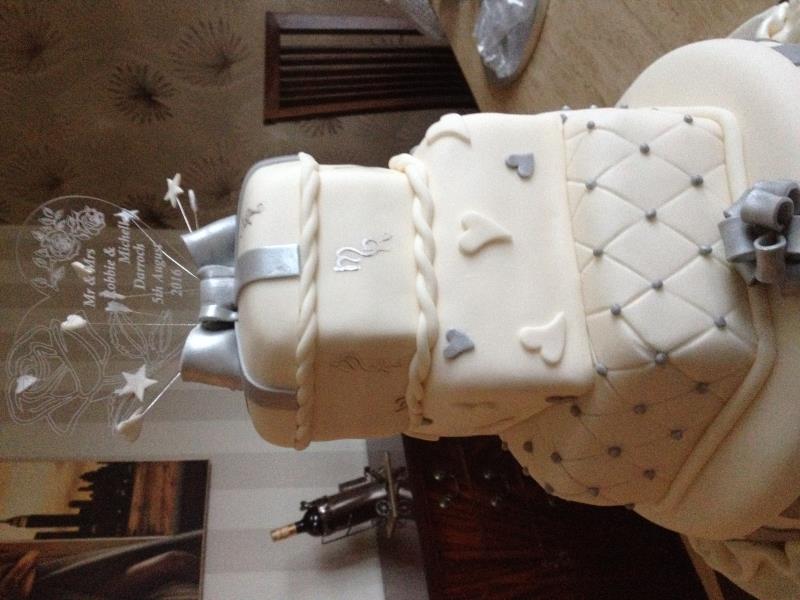 Michelle - ivory and silver 3 tier wedding cake in lemon and Madeira sponges at North Euston Hotel Fleetwood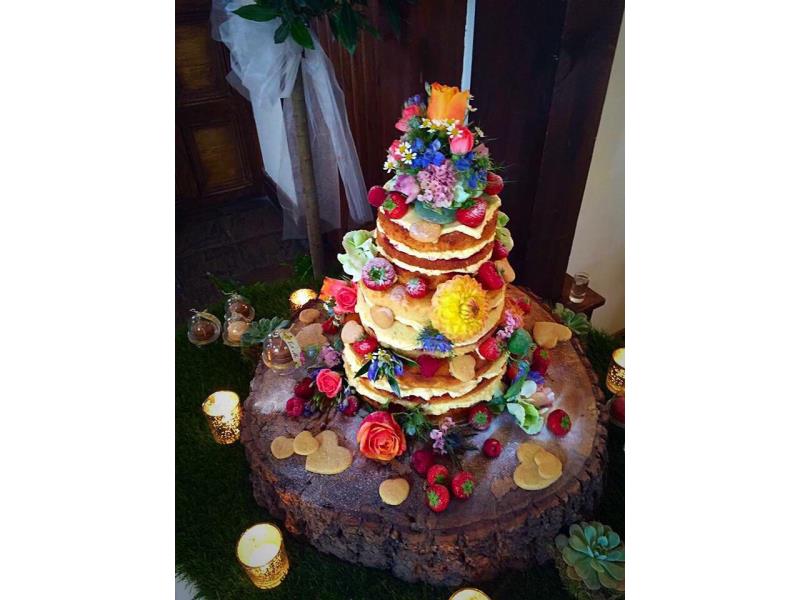 Nature themed wedding cake in sponge with handmade shortbread, fresh fruit and fresers with log for celebration at Great Hall of Mains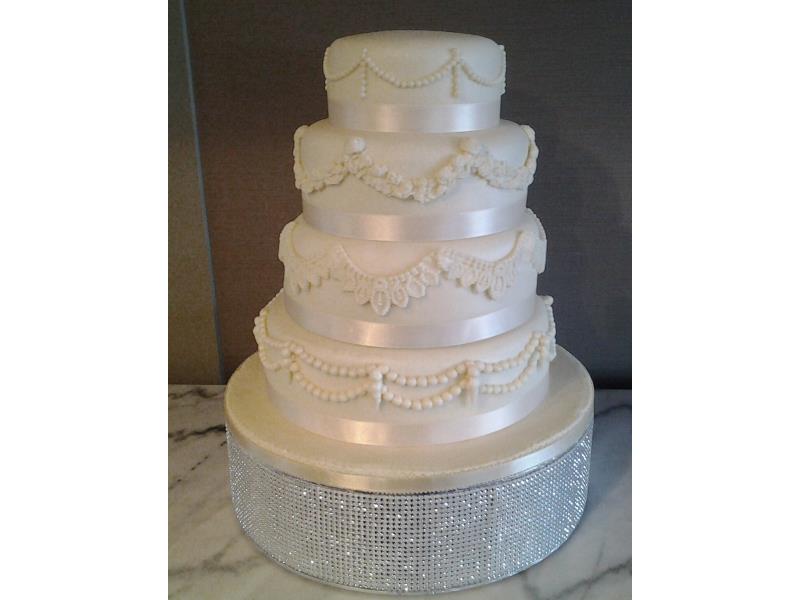 Sarah & Tim - 4 tier wedding cake in fruit cake and Madeira sponge for their wedding celebration at King Street Townhouse, Manchester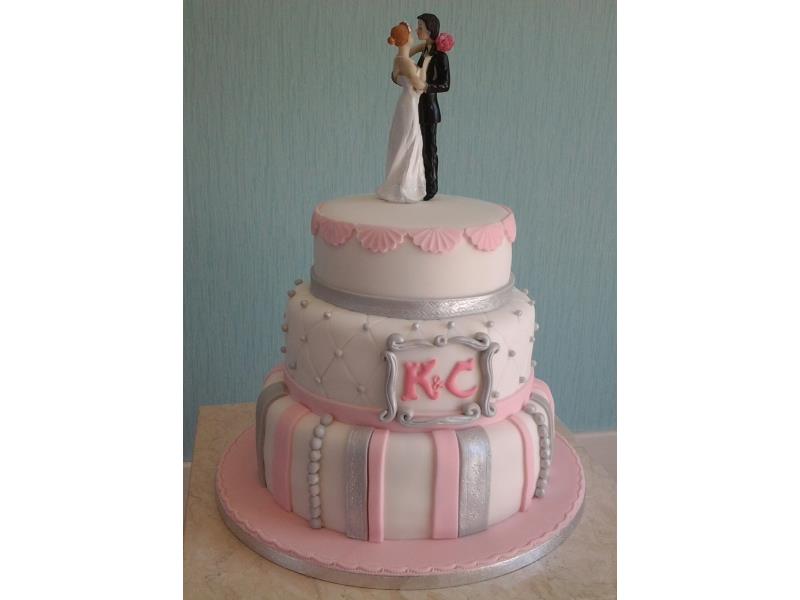 Classical wedding cake - 3 tiers in plain sponge covered in baby pink and silvered decorations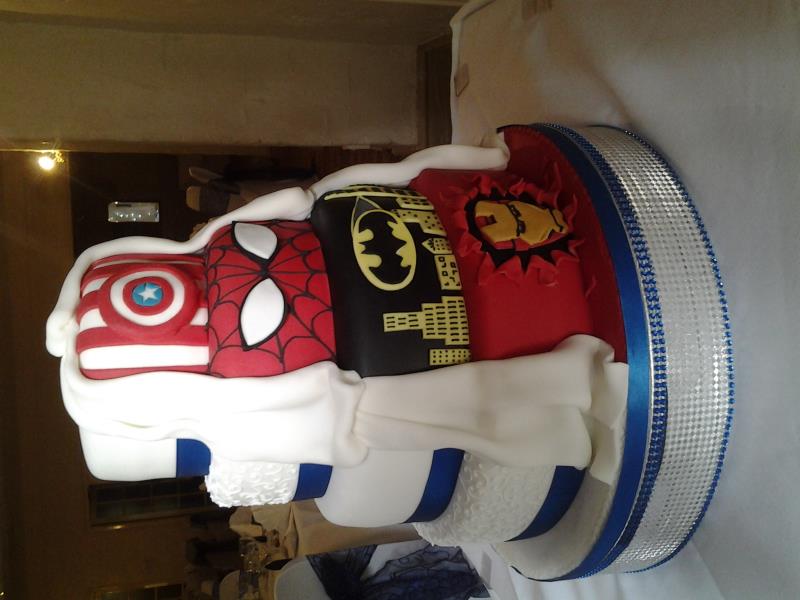 Marvel wedding cake with more traditional reverse view in 4 tiers of sponges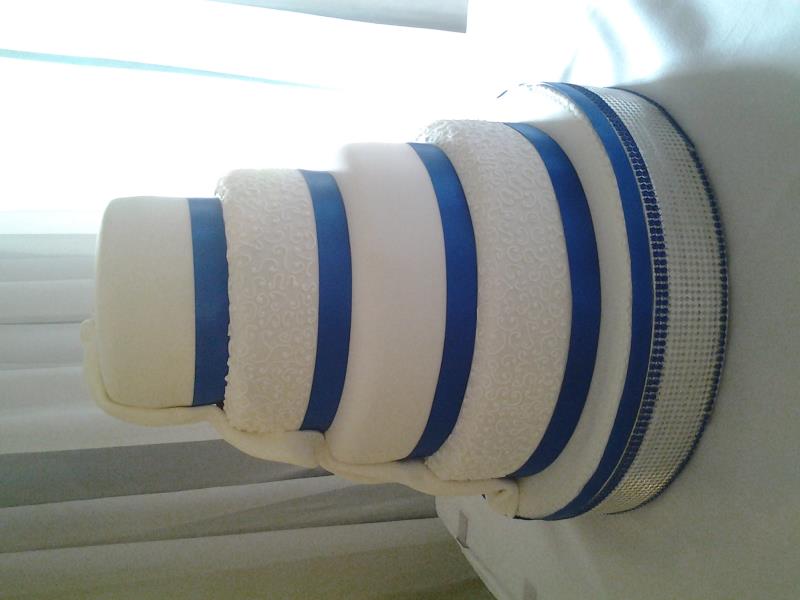 4 tier wedding cake with Marvel on reverse side for a his and hers weddiing cake made from Mdeira and chocolate sponges for Lucy & Gary in Northwich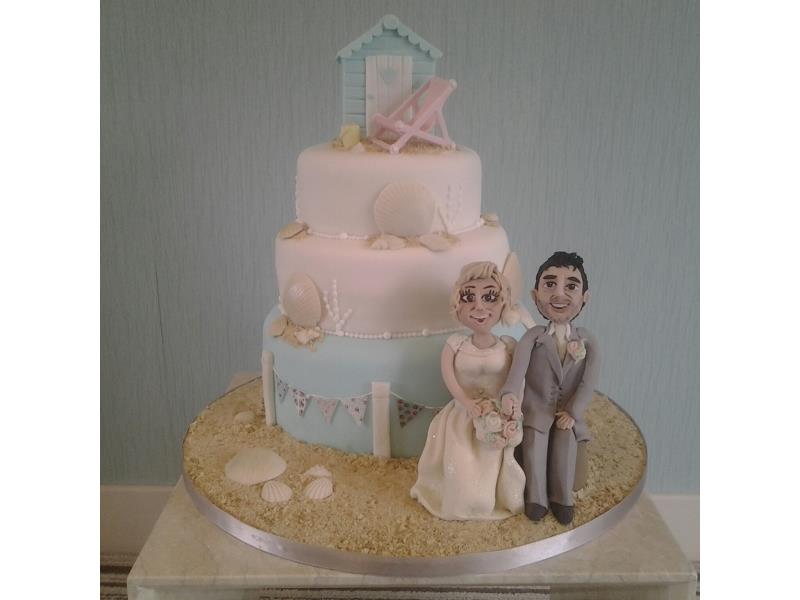 Beach scene - wedding cake with beach hut, deckchair, sand and sea shells for Chantelle's wedding at Ribby Hall, made from chocolate & orange sponge.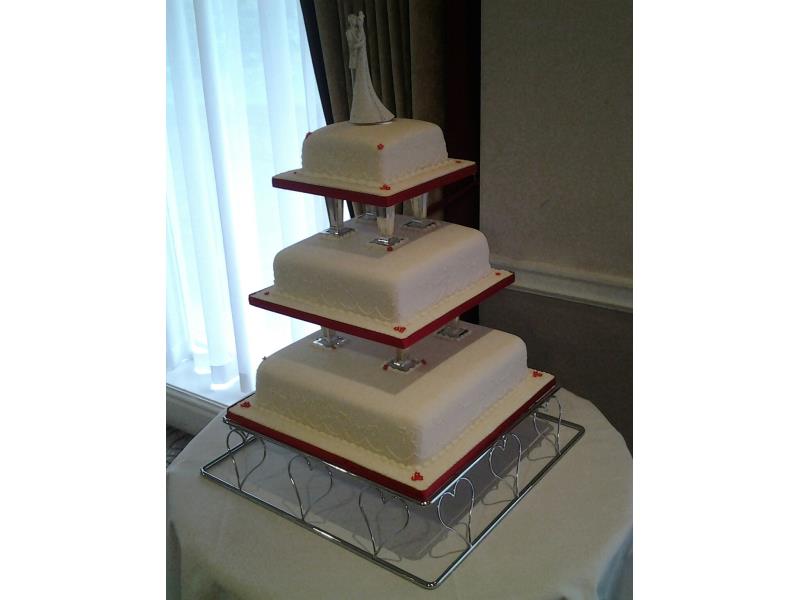 Sharon - 3 tier wedding cake with pillars in white and red for Sharon & James in Rochdale, made from fruit cake and chocolate sponge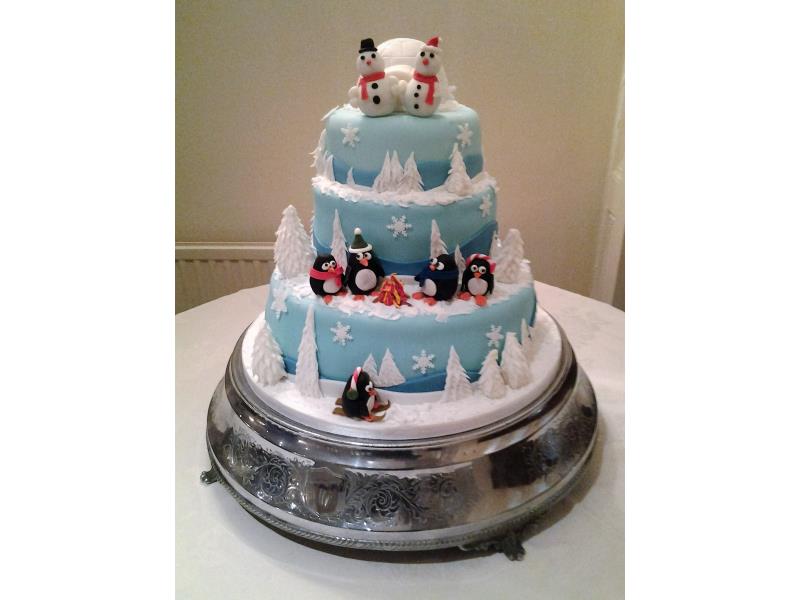 Christmast and winter themed wedding cake with penguins for Elisha and Chris's wedding at Barton Grange, Preston. Made from fruit cake, lemon sponge.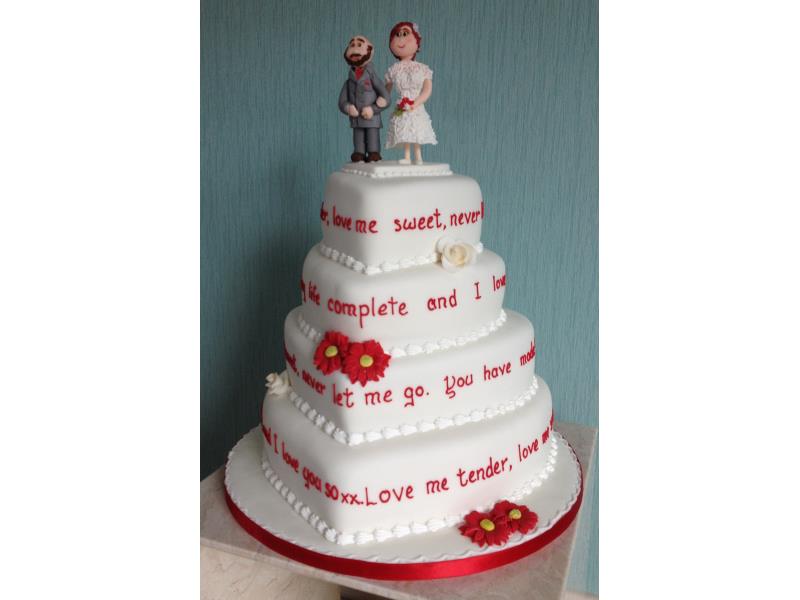 Elvis lyrics around 4 tiers of plain spong and chocolate sponge for Donna's & Jason's wedding at Haighton Manor, Preston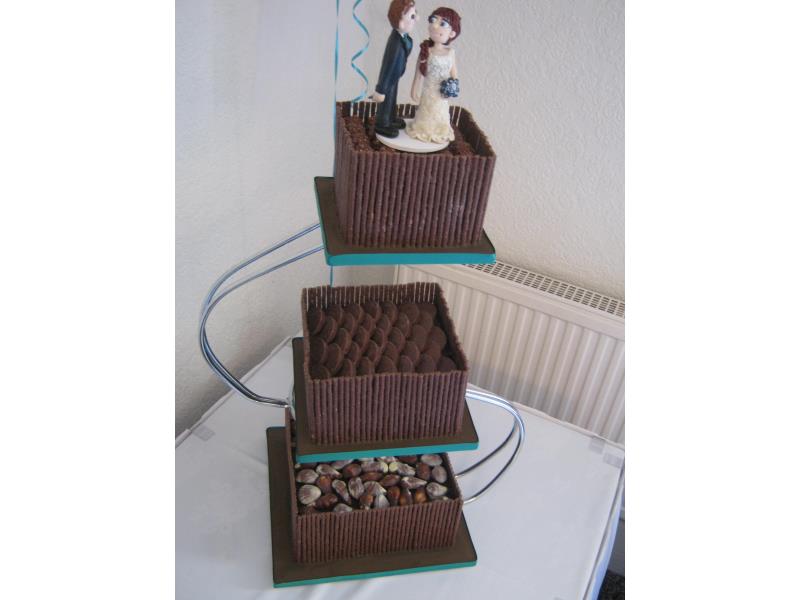 Chocolate! wedding cake made from sponge, Matchmakers, Chocolate Oranges, Ferrero Rocher and Guylian for Emily's wedding at Springfield House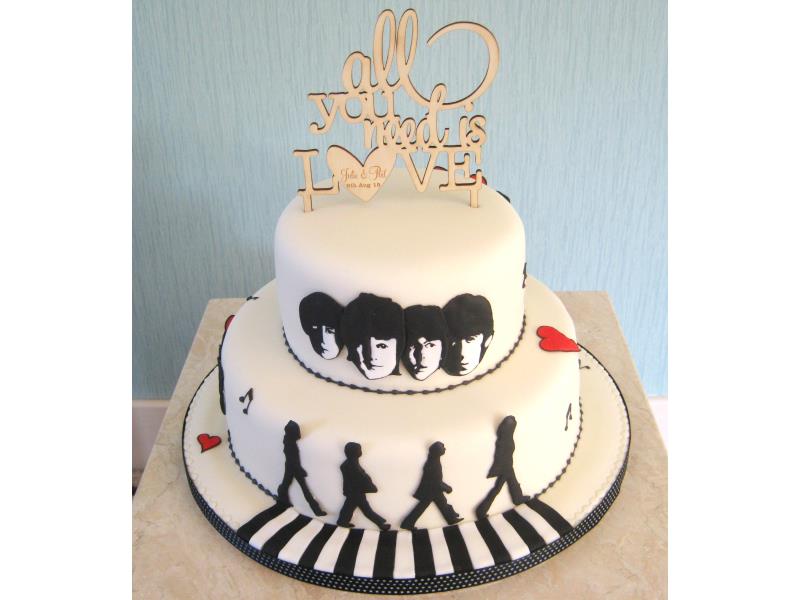 Beatles themed cake for Julie & Philip of Thornton-Cleveleys for their wedding at The Cavern Club Museum, made in vanilla and lemon sponges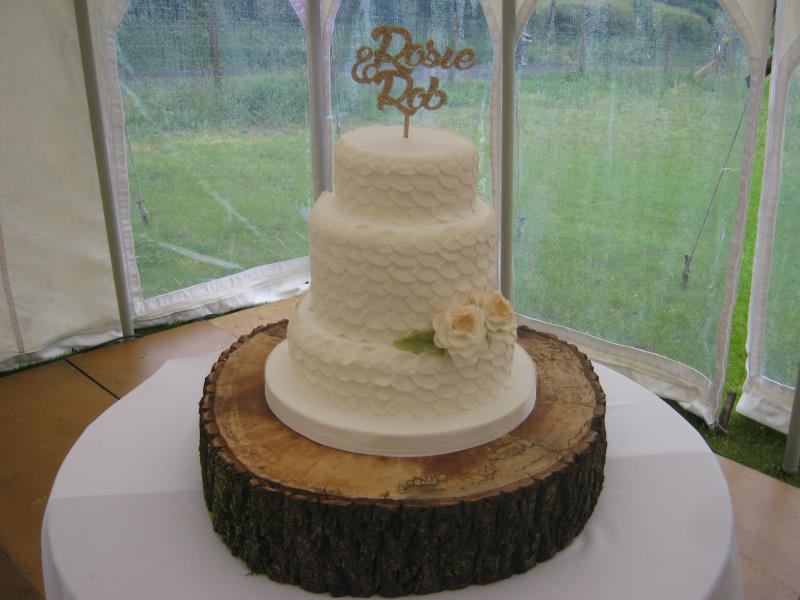 Leaves in white for Rosie & Rob's wedding in Derbyshire from fruit cake.Decorated in white sugarpaste leaves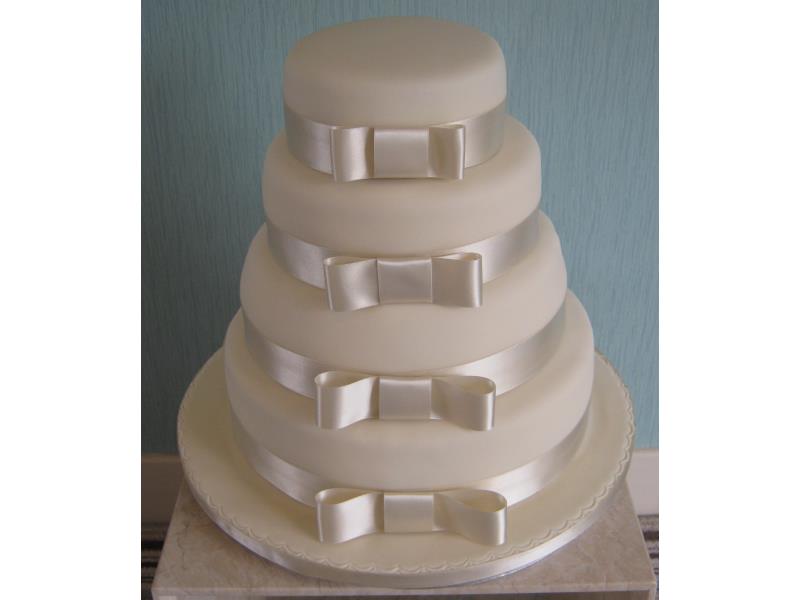 Ivory wedding cake in chocolate, vanilla and chocolate with orange sponges in Yorkshire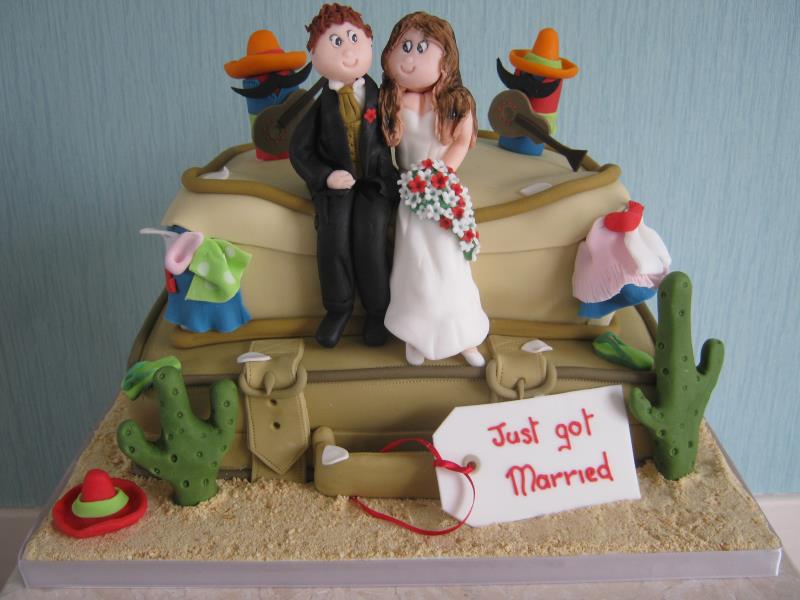 Mexican wedding-themed cake in lemon and chocolate sponges for their reception at #MartonInstitute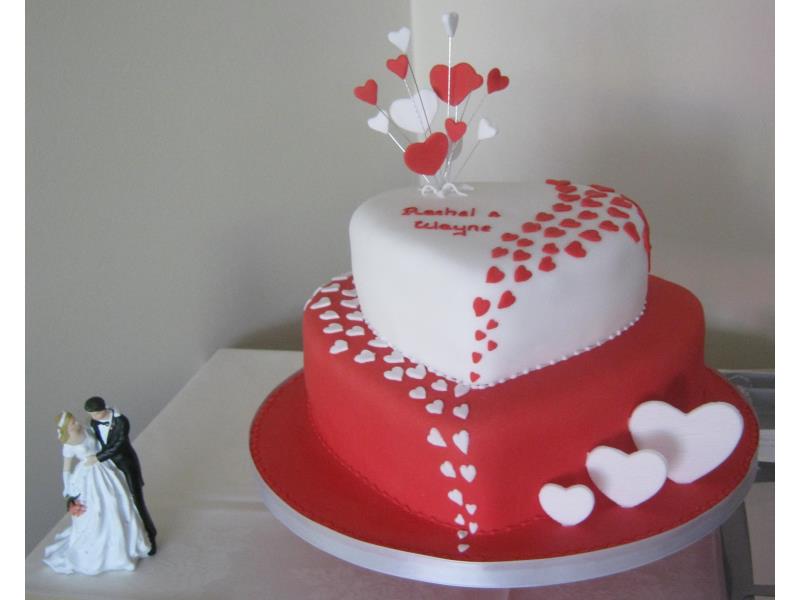 Hearts Galore wedding cake in red and white for Rachel and Wayne in Blackpool, made from plain sponge.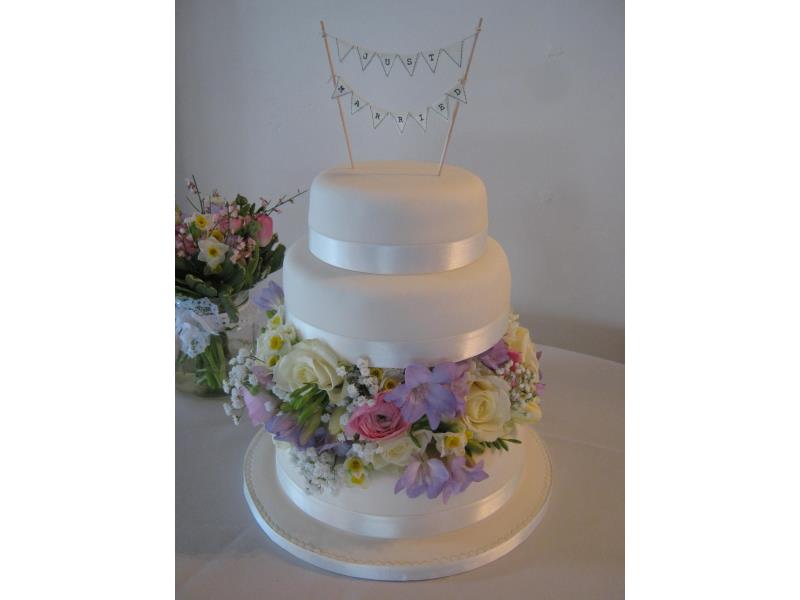 Shelley - three tier wedding cake with fresh flowers. Cakes are in sponge - Madeira, lemon and chocolate for wedding at #GreatHallof Mains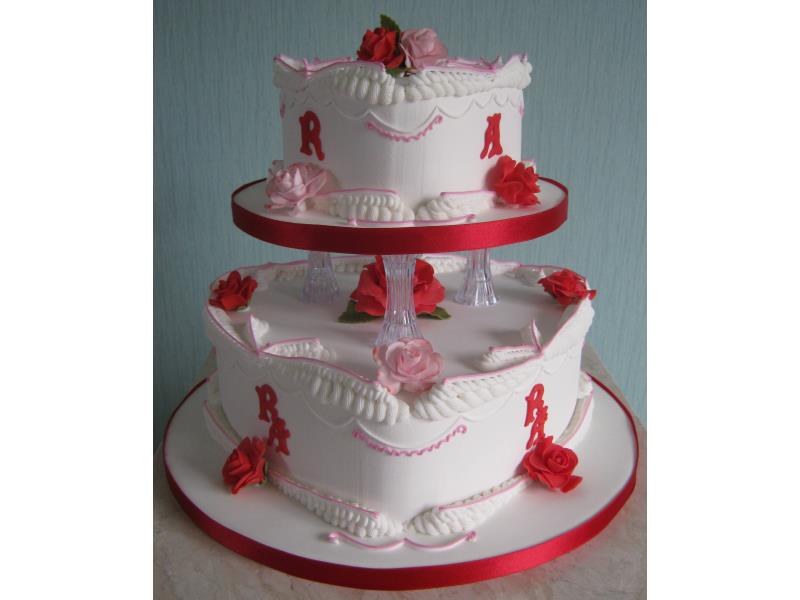 Anne and Richard celebrating their marriage with a traditional wedding cake made from fruit cake in #Blackpool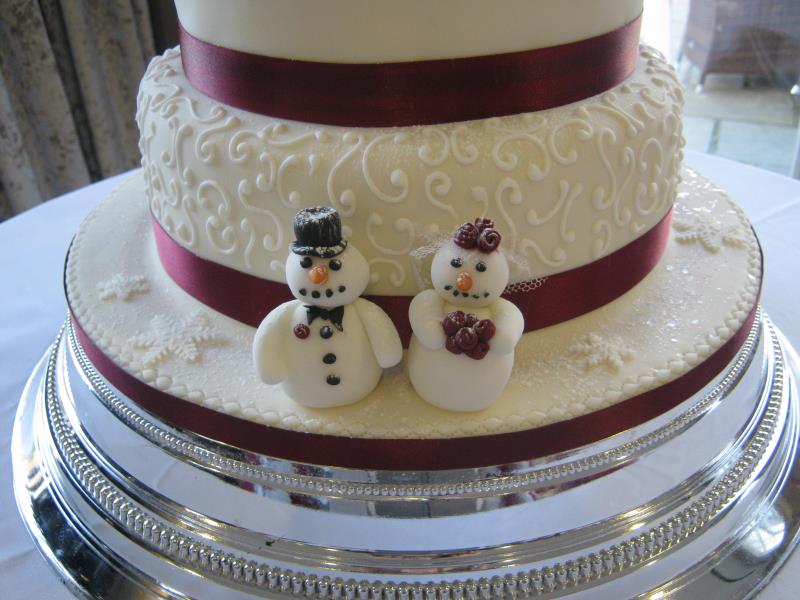 Burgandy wedding Cake -close up to show the Winter themed decorations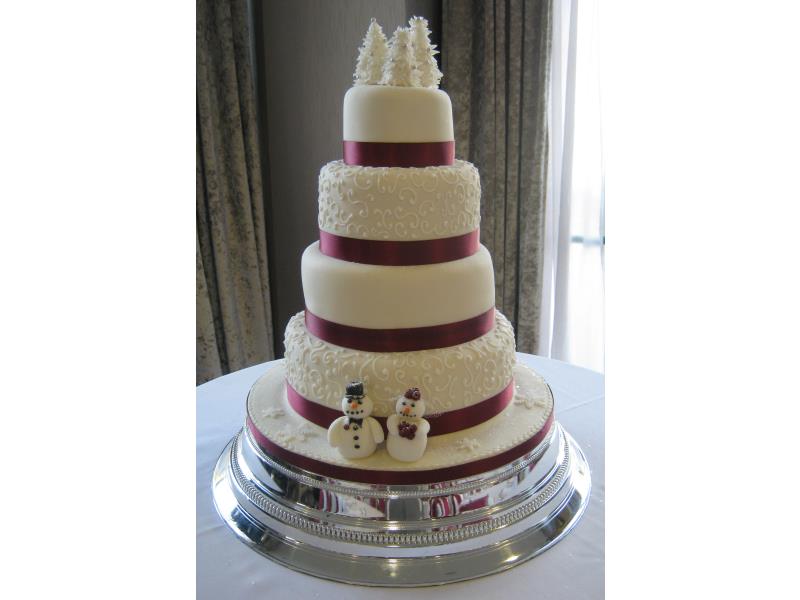 4 tier Burgandy Wedding Cake for Rachel & Stuart at their Reception at #Ribby Hall in #Kirkham, made from plain and lemon sponges and with fruit cake.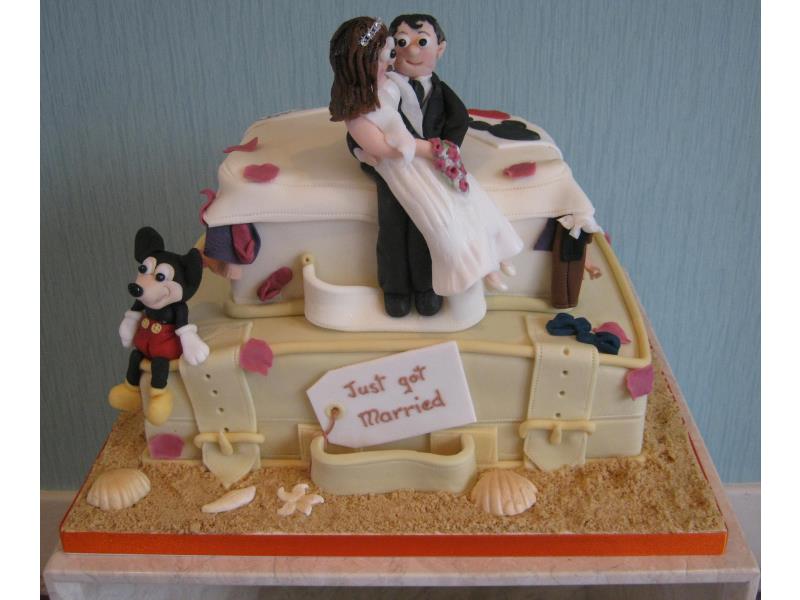 Suitcase Wedding Cake for Louise & Marcus's Reception in #Garstang as a reminder of their Florida wedding. Made from Lemon and plain sponges.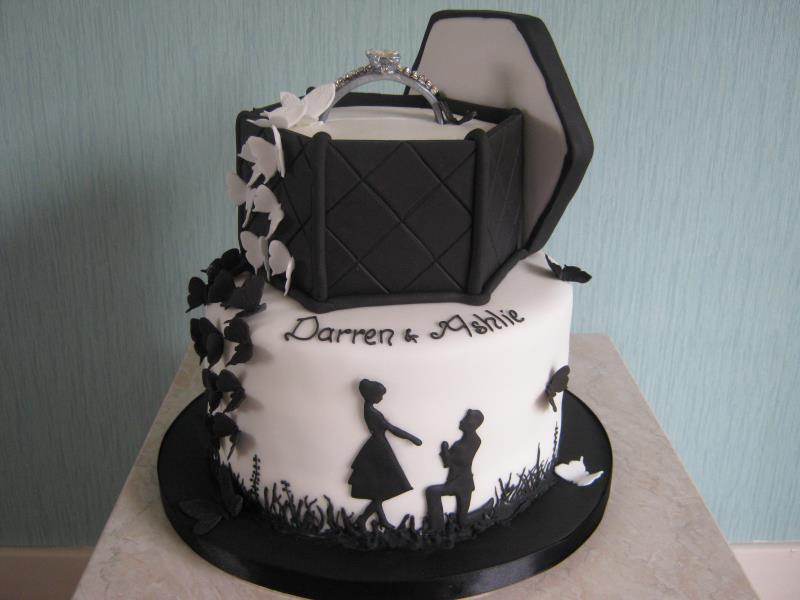 Diamond - Love is..sponge cake for Lytham St Annes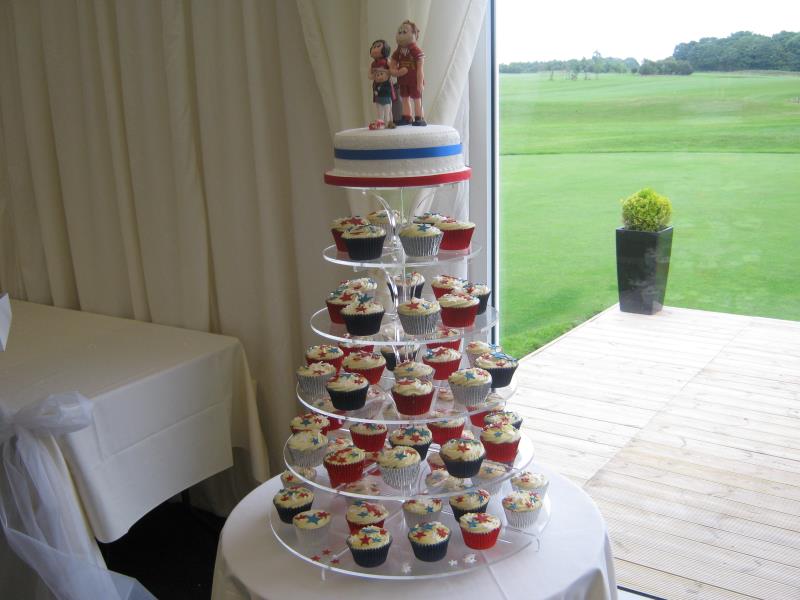 Red, white & blue themed wedding cupcakes for Laura in Staining from Madeira sponge with personalised figures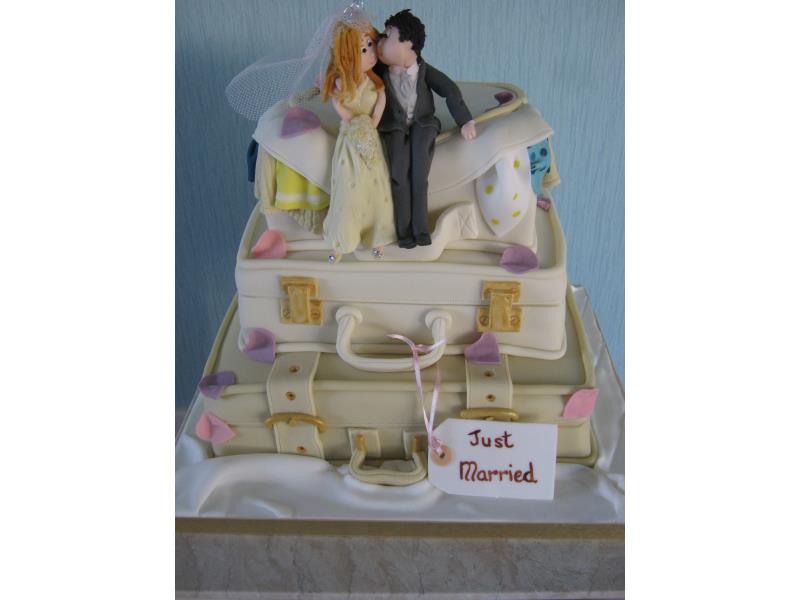 Honeymoon themed Wedding Cake in chocolate, plain and lemon sponges for ceremony at The Villa, Wrea Green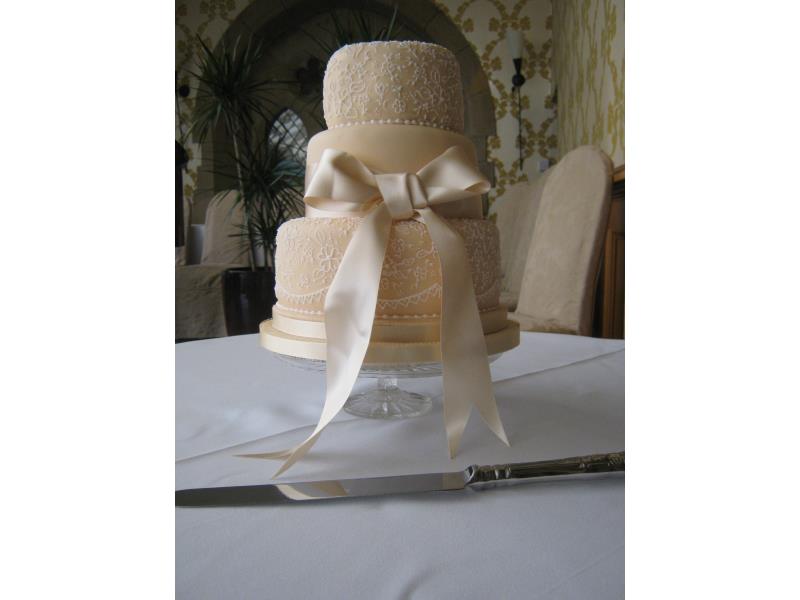 Shirley - Champagne and white 3 tier Wedding Cake in Madeira, lemon and Chocolate with Rasberrys sponges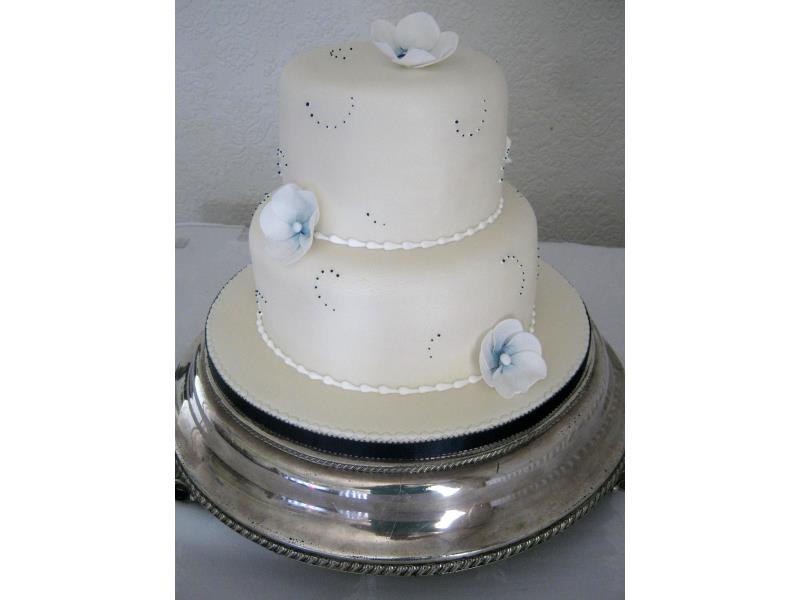 Sarah - Mother of Pearl with white flowers, dusetd in navy Wedding Cake at Ribby Hall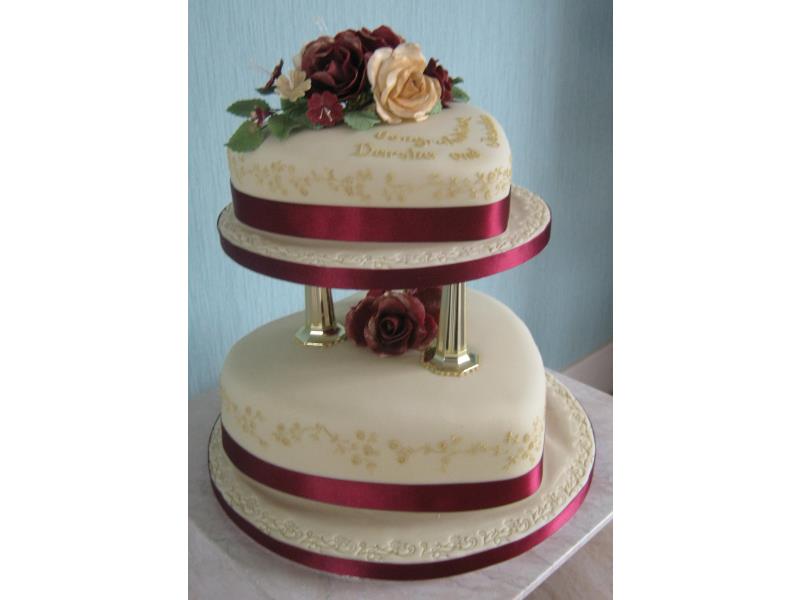 Deena Classic maroon and Old Gold Wedding Cake in Madeira and lemon sponges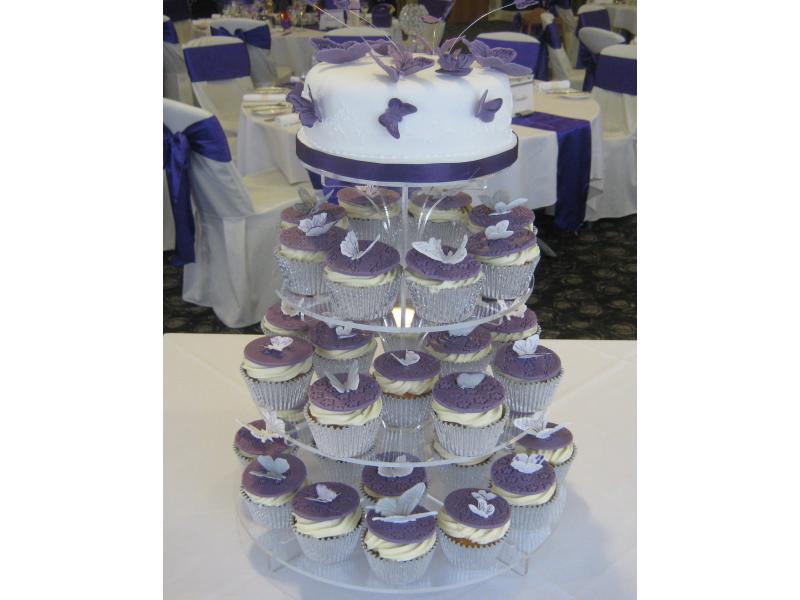 Cupcakes for Cadbury-themed wedding at Ribby hall in chocolate sponge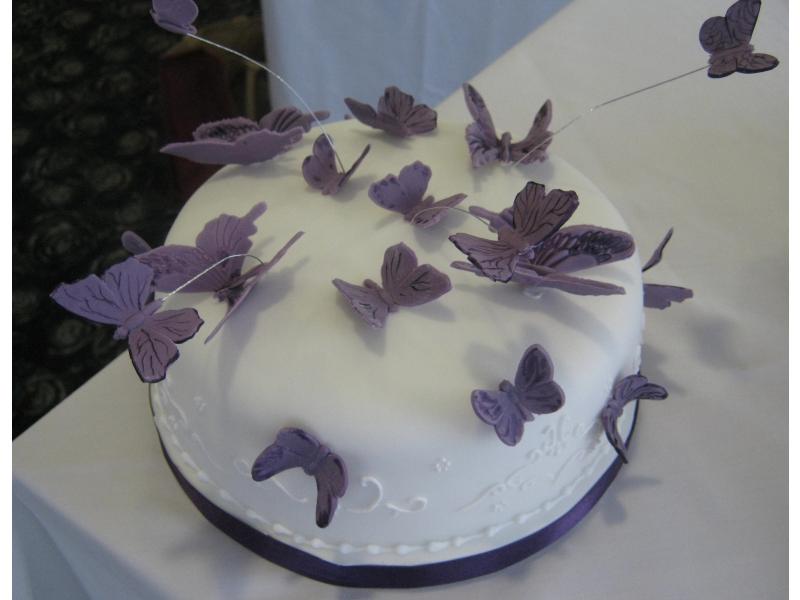 Cake with butterflies for Cadbury-themed wedding of Hayley at Ribby Hall and from Lytham in Madeira

Nicola 3 tier offset Wedding Cake in Madeira sponge and coated in white chocolate sugarpaste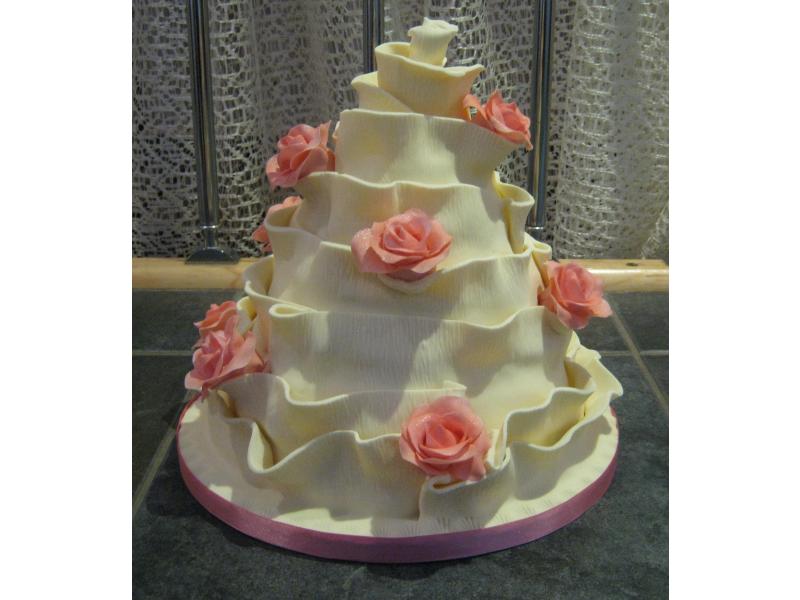 Nicola single tier of wedding Cake in sponges to Holland House Hotel, Upholland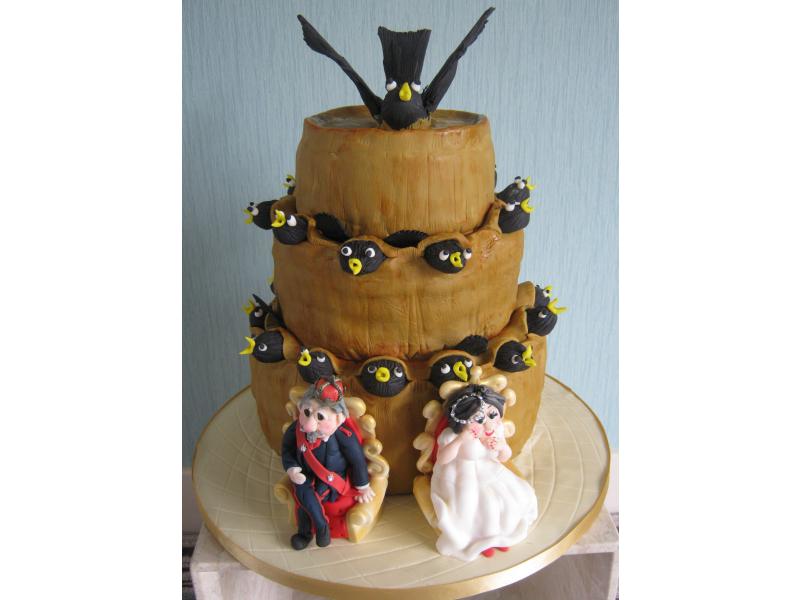 Wedding Cake for couple in Newcastle quirky in fruit cake and sponge cakes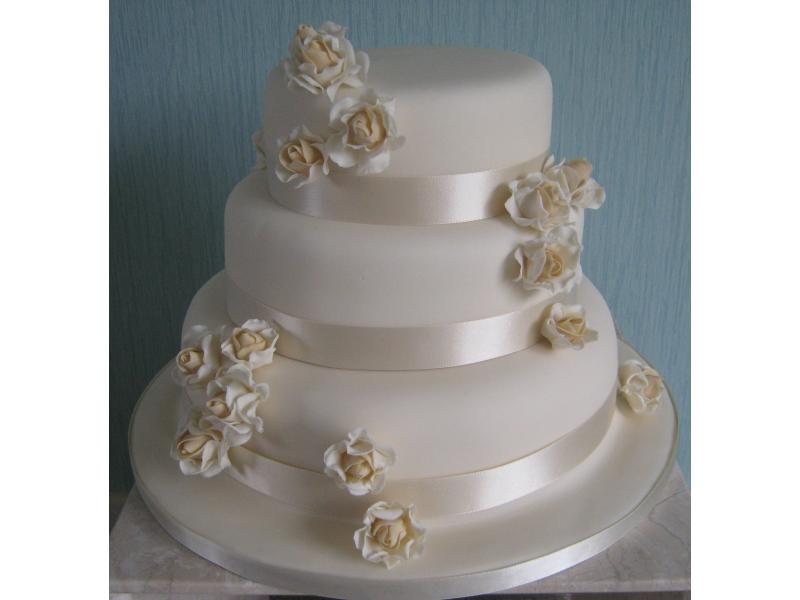 Simply Ivory 3 tier Wedding Cake in plain sponge, chocolate sponge and fruit cake for wedding at Bartle Hall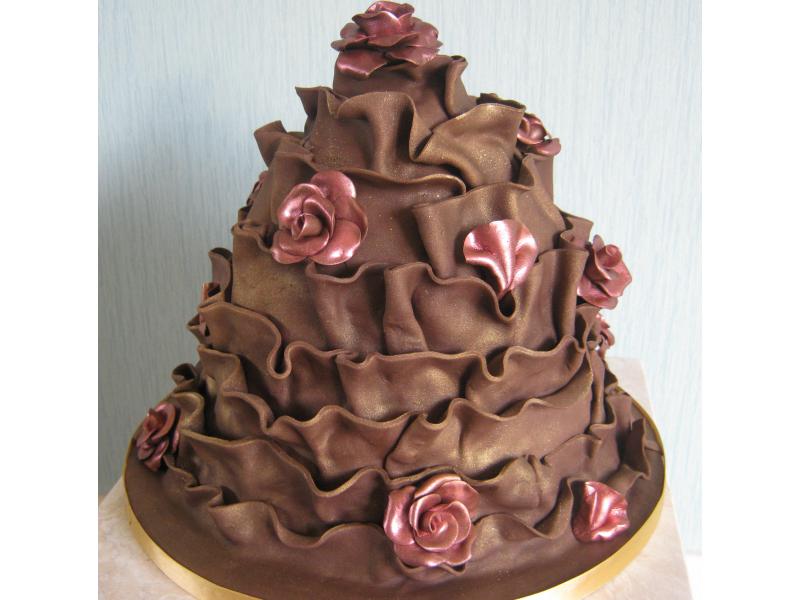 Chocolate Friils Wedding Cake in sponge for Karen & Samuel in Blackpool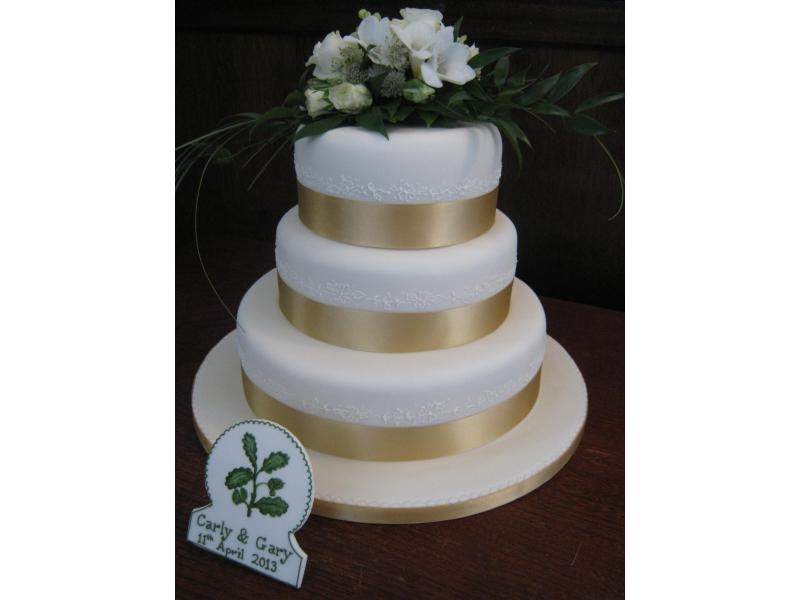 Carly 3 tier Wedding Cake in sponges and fruit cake for Carly and Gary at their wedding at Bartle Hall Hotel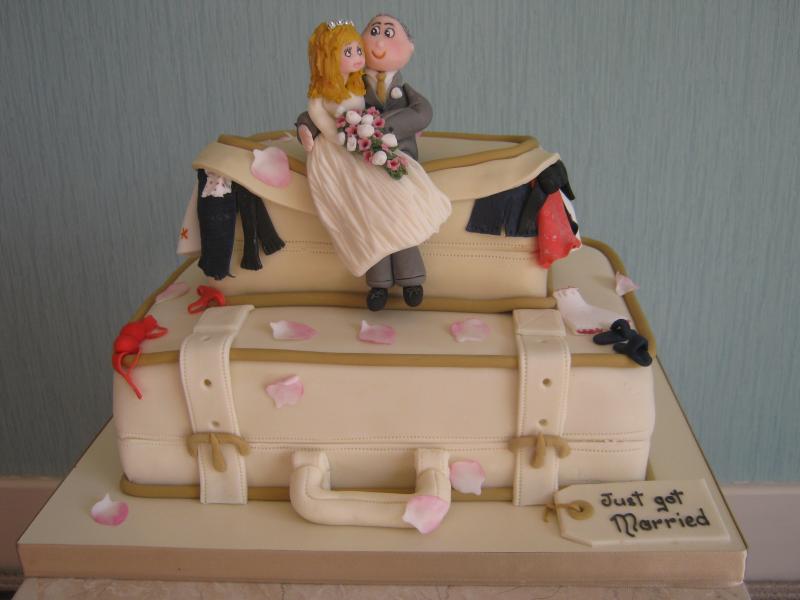 Luggage - Wedding Cake with a difference for David and Sharon - Libertys Hotel, Blackpool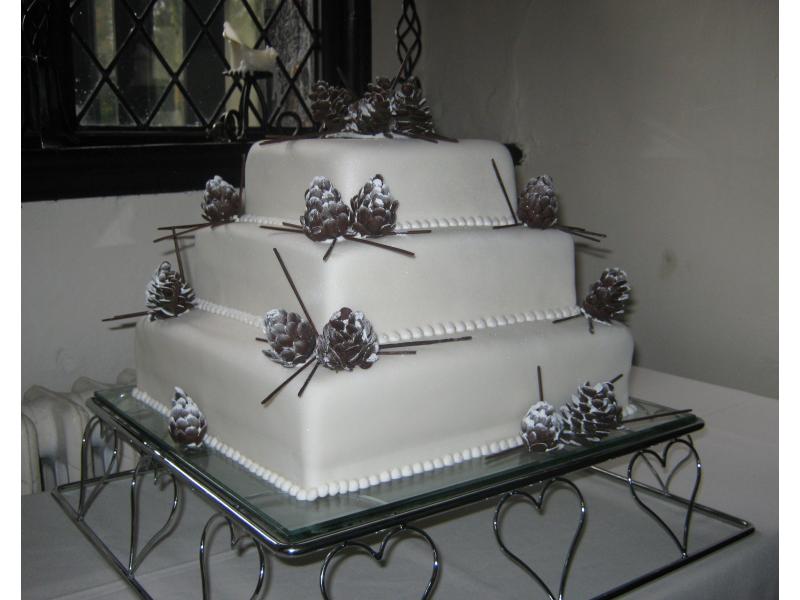 Winter Acorns three tier stacked Wedding Cake for Felicity of Garstang. Mixture of fruit, chocolate and plain sponge. Wedding at Salmesbury Hall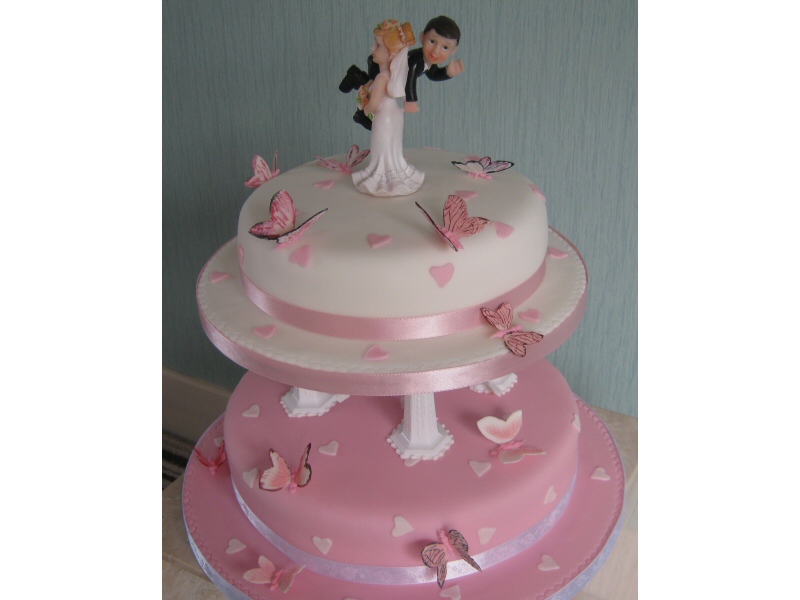 Over The Threshold - Two tier wedding cake with comedy characters for Jennifer and Haydn of Blackpool's wedding at the Ruskin Hotel.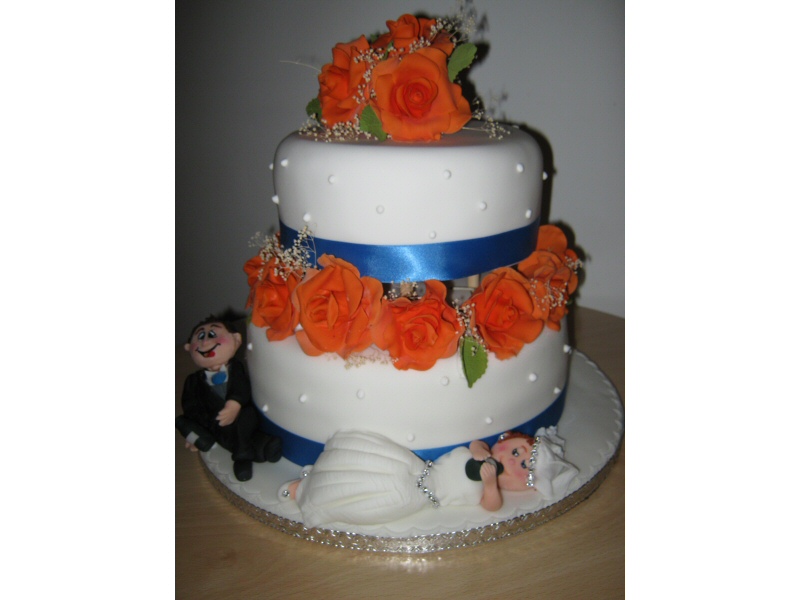 Drunken Wedding - Drunken bride and groom on Kerry and Mark's cake for their reception held at Fleetwood FC.

Wedding Vows - 2 tier sponge cake adorned with vows for Sian & Brian for their wedding at North Euston Hotel, Fleetwood.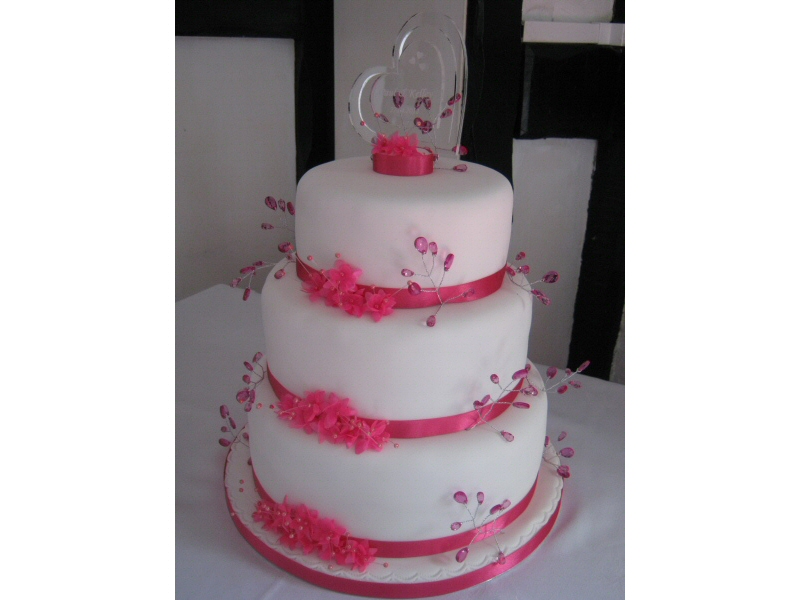 Kelley - Fuchsia pink 3 tier sponge wedding cake for Kelley of Darwin, near Blackburn.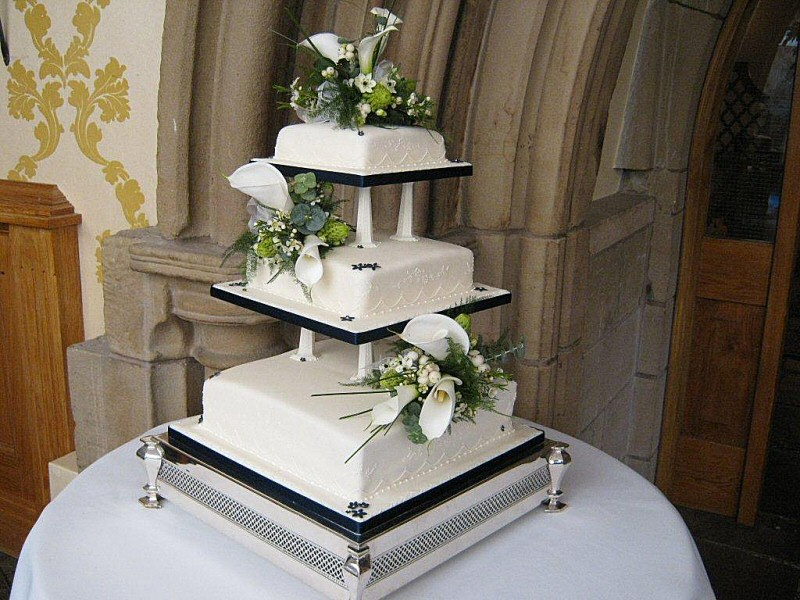 Kathryn - 3 tier square wedding cake decorated with arum lilies and snow berries for Kathryn and Ian in Chipping, Preston.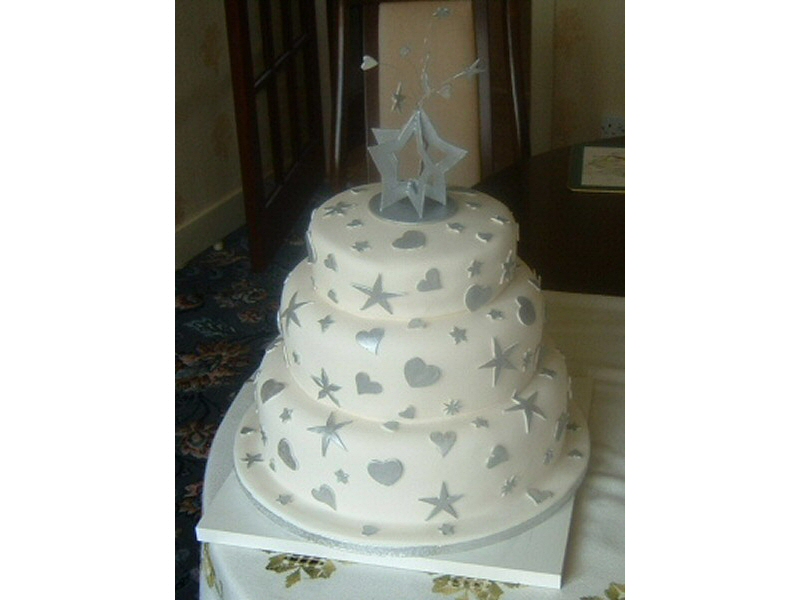 Stars - Wedding cake for Anita of Chorley, near Preston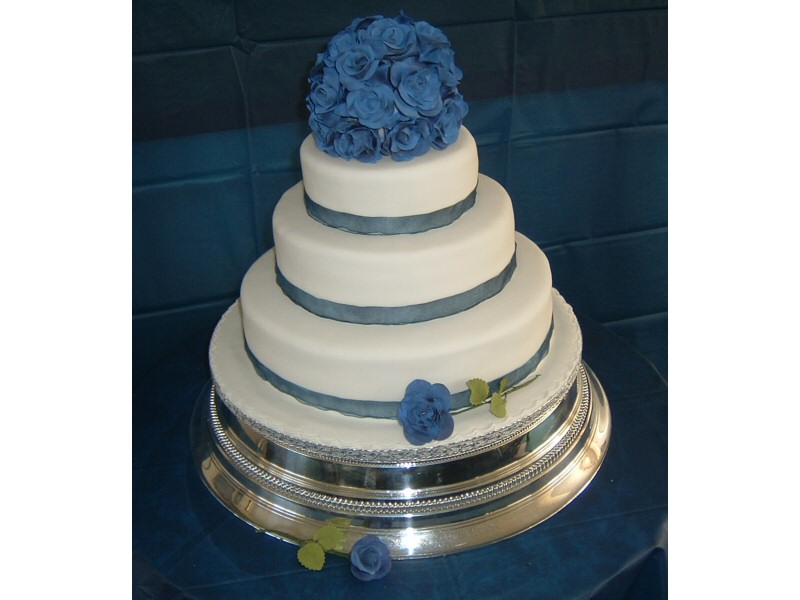 Ian and Carole - Simple blue themed wedding cake for Ian and Carole of Fleetwood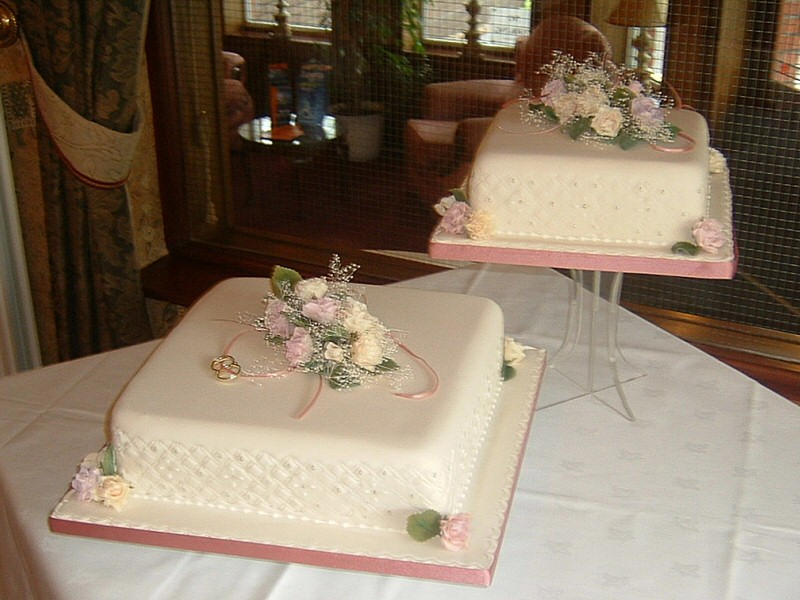 Tina - Embossed 2 tier wedding cake with roses for Tina, Preston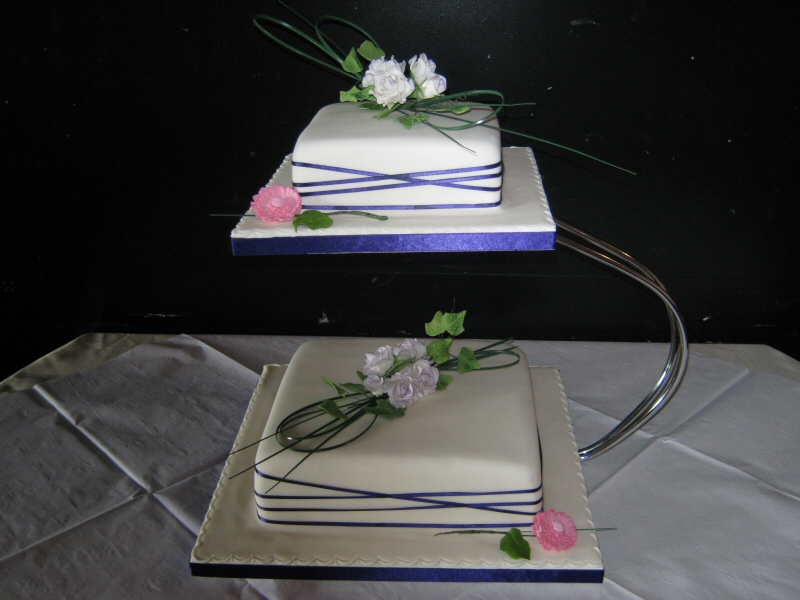 Karen - 2 tier Rose and Gerber wedding cake for Karen and Tony of Lancaster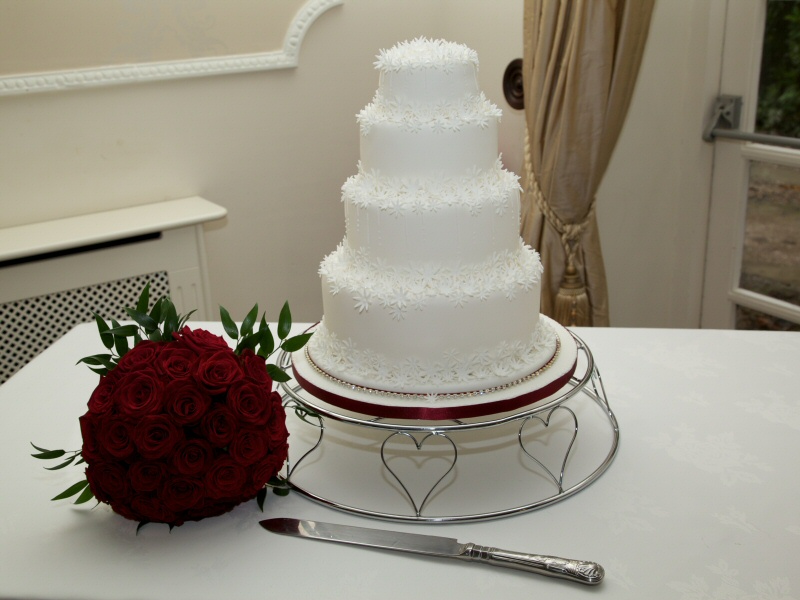 Helen - Simple design wedding cake for Helen, married at Singleton Lodge

Tracey - 2 tier heart shaped wedding cake for Tracey from Thornton Cleveleys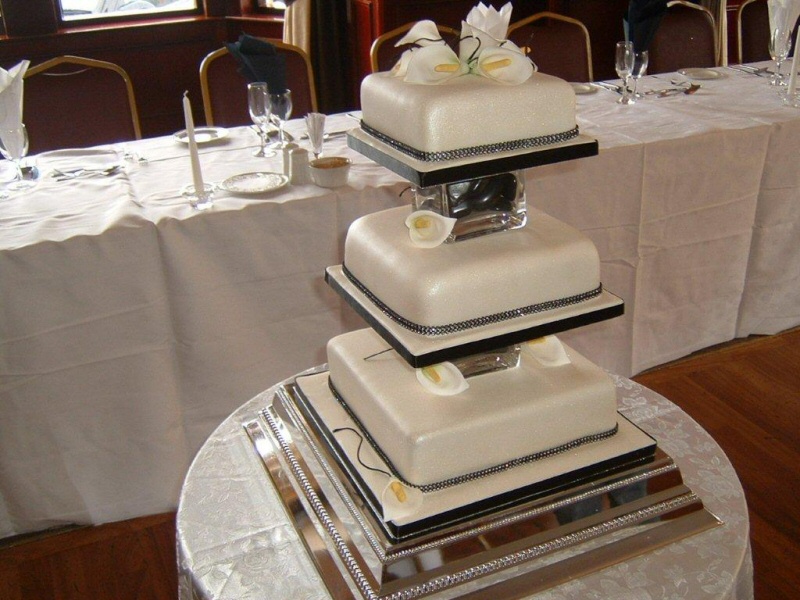 Natalie - 3 tier square ivory wedding cake with Cala lilys for Natalie, Blackpool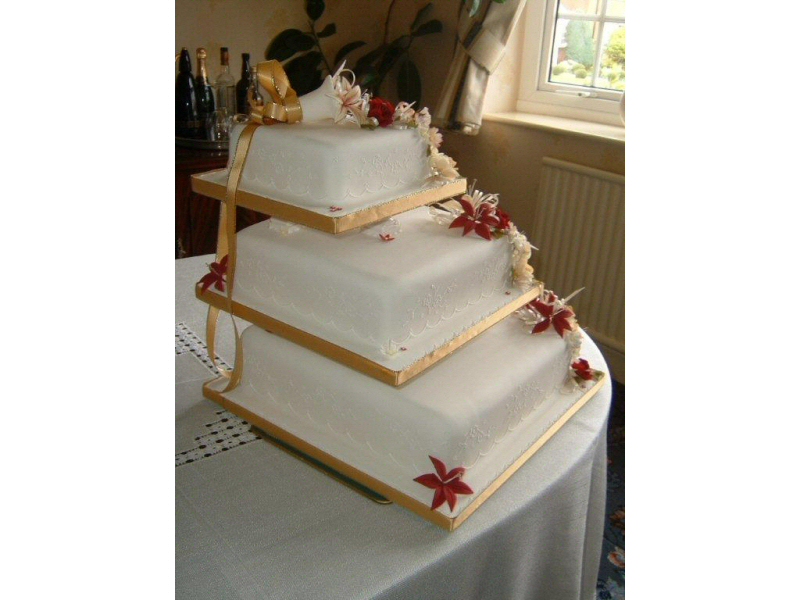 Yvie - 3 tier square cream wedding cake for Yvie, St Annes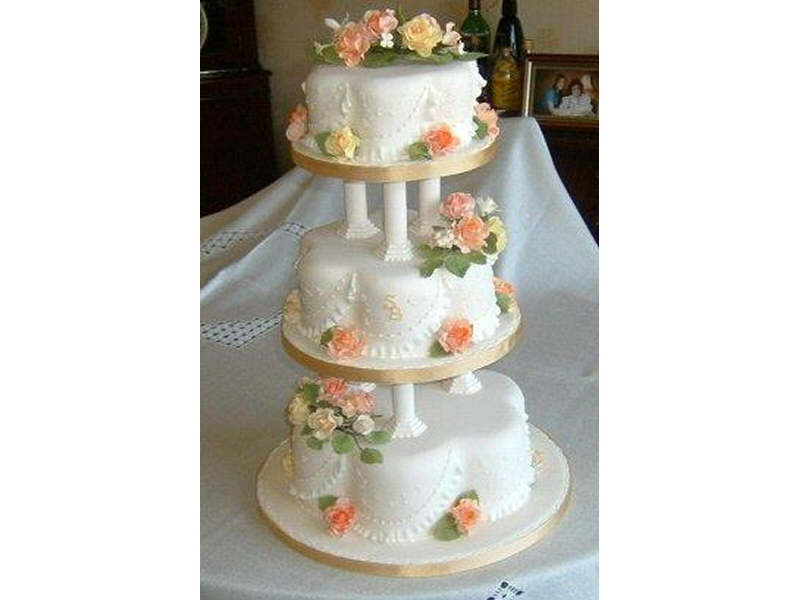 Sandra - 3 tier cream petal shaped cake with roses frilling, together with monograms of the bride and groom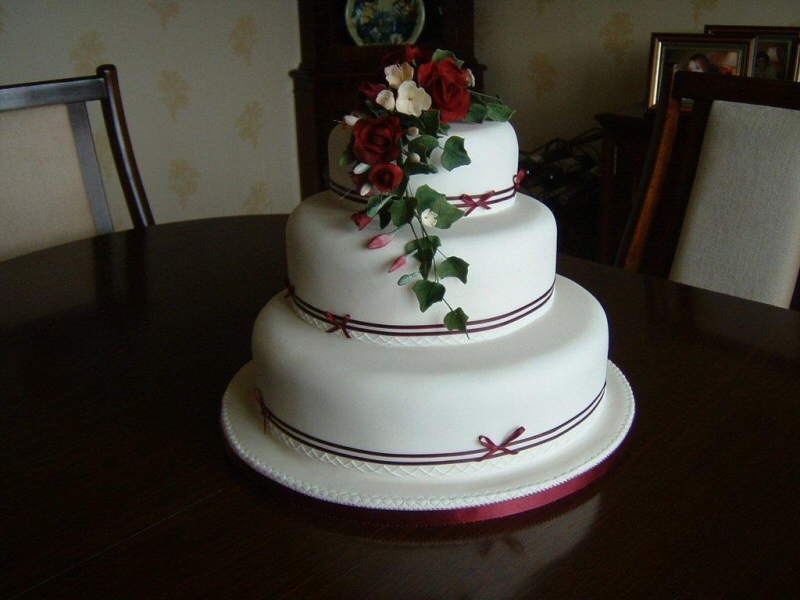 Ruby - 3 tier ivory sugarpaste wedding cake with freesias, roses and maroon banding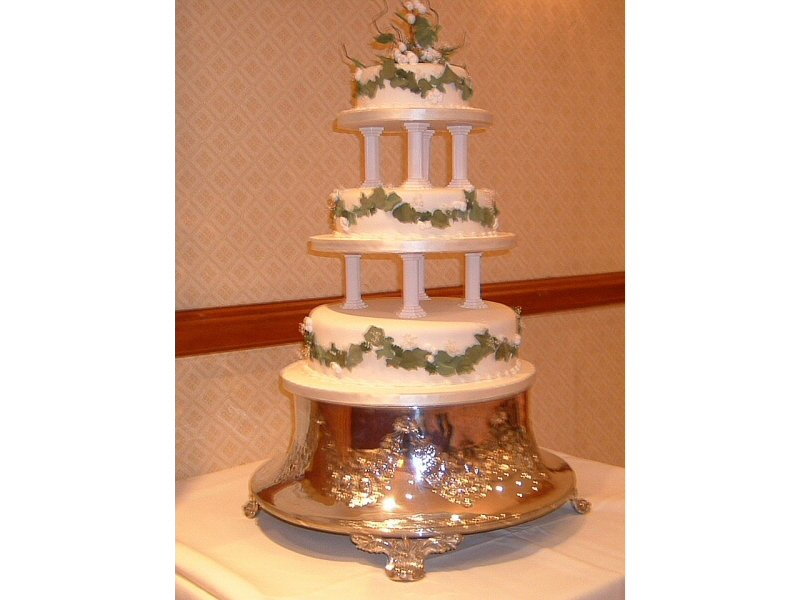 Julie - 3 tier cream pillared wedding cake with garlands of ivy leaves and berries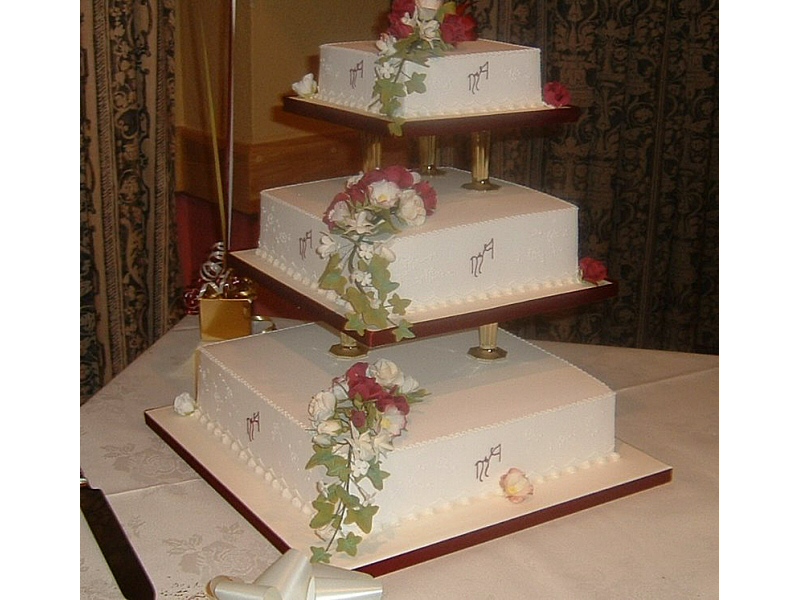 Annette - 3 tier off-set square cream royal iced, pillared wedding with trailing ivy, roses and monograms of the bride and groom from Bolton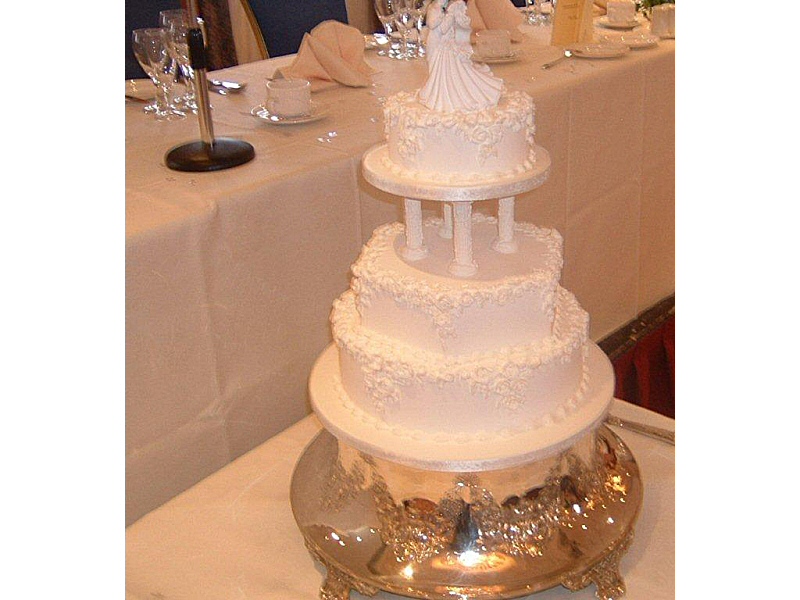 Zara - 3 tier white traditional royal iced wedding cake with hand made royal ice roses for Zara, Garstang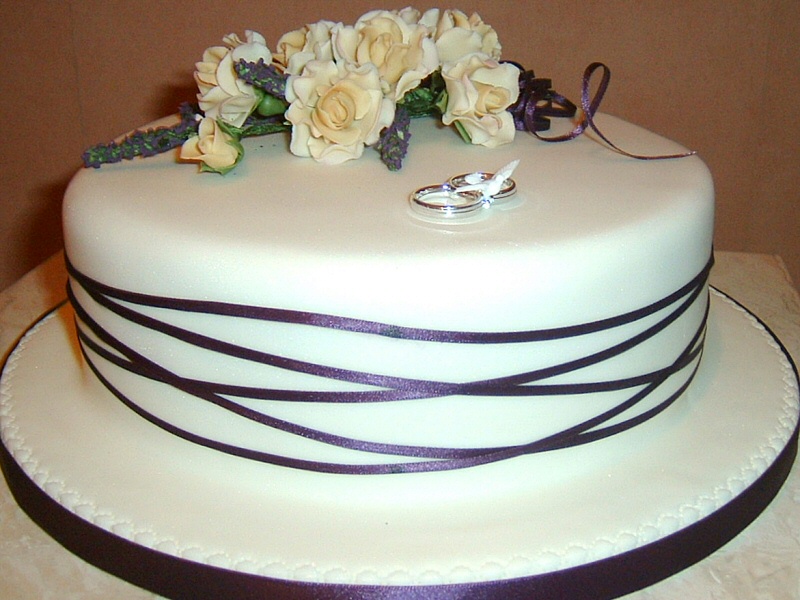 Sue - Single tier banded wedding cake for Sue, Lytham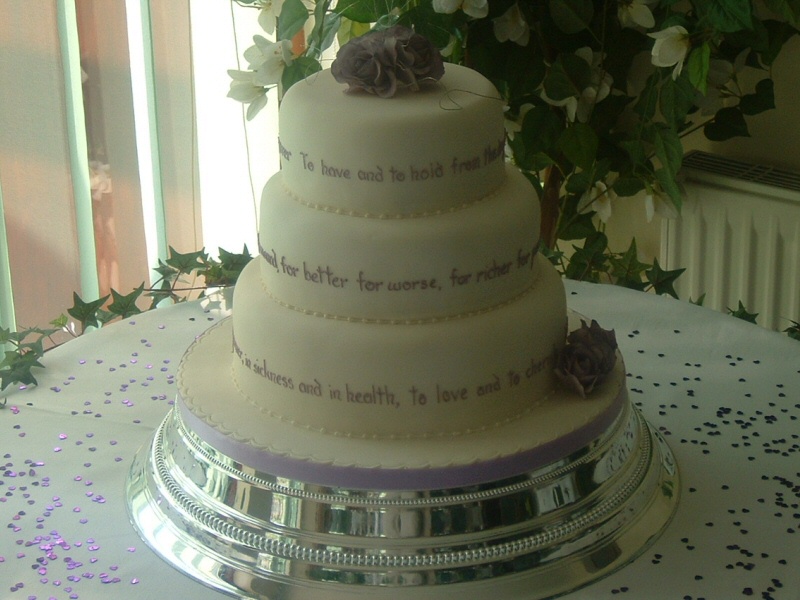 Rebecca - 3 tier cake with wedding vows iced on for Rebecca, Freckleton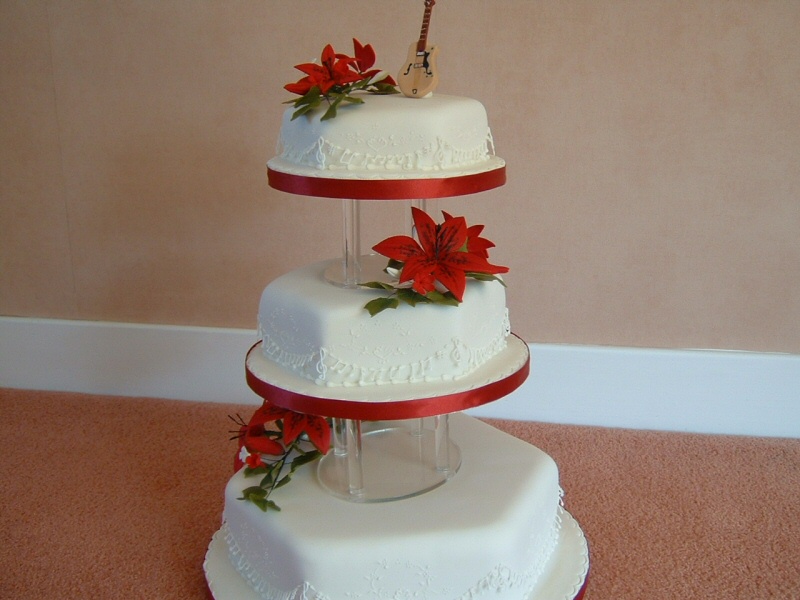 Yvonne - 3 tier wedding cake with sugarpaste flowers for Yvonne and Pete, Singleton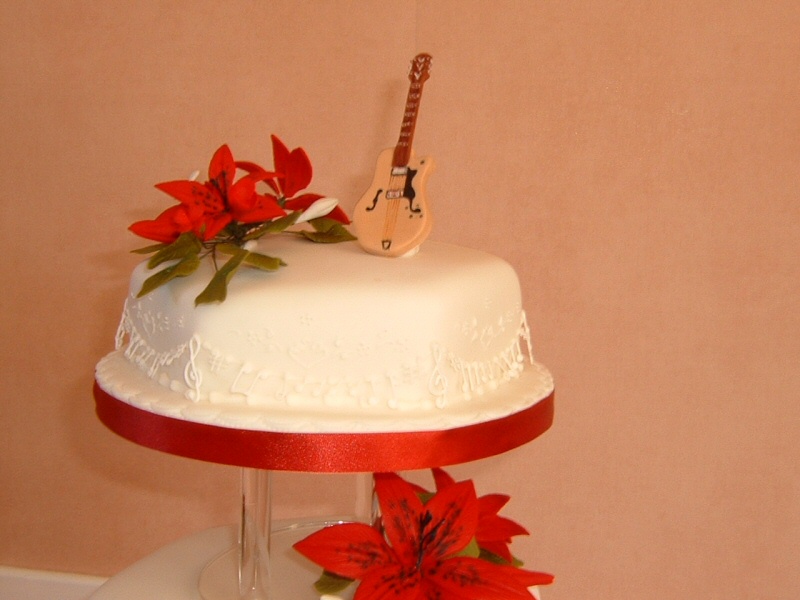 Yvonne (Close-up) - Detail of top tier with guitar for Yvonne and Pete, Singleton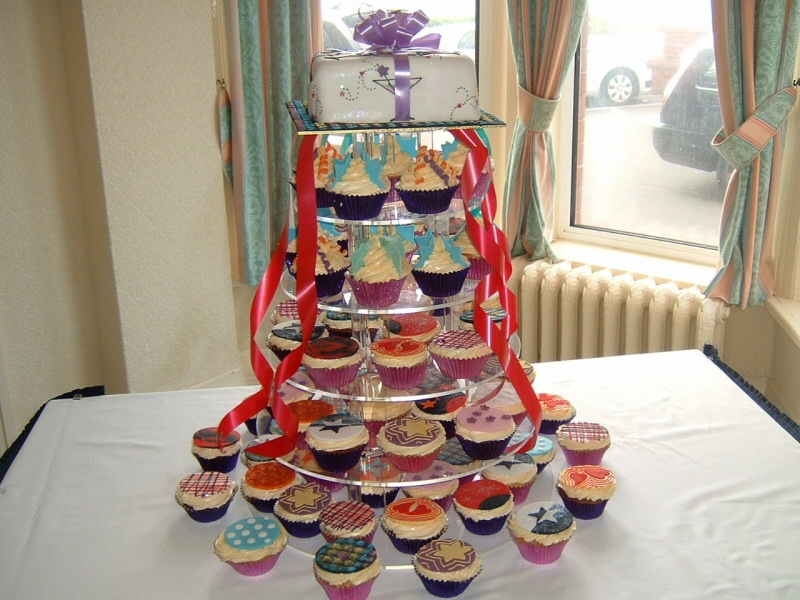 70s Theme - Cupcakes in situ at the wedding reception of Tracey & Stephen, Fleetwood
Thank-you for visiting my website. If you like what you see, why not get in touch to arrange a chat:
I look forward to hearing from you.
For the majority of cakes (unless delivery is requested), collection would be from my home in Bispham, just north of Blackpool. However, for wedding cakes I would usually include delivery to the venue and setting up of the cake. You'll have plenty of other things to be thinking about on the day!
For delivery, venues of up to 50 miles from Blackpool are quite normal, including: Fleetwood, Poulton-le-Fylde, Thornton Cleveleys, St Annes, Lytham, Kirkham, Garstang, Preston, Lancaster and beyond, with Southport, Morecambe, Chorley, Blackburn, Burnley, Bolton and Manchester being the maximum I would usually travel.